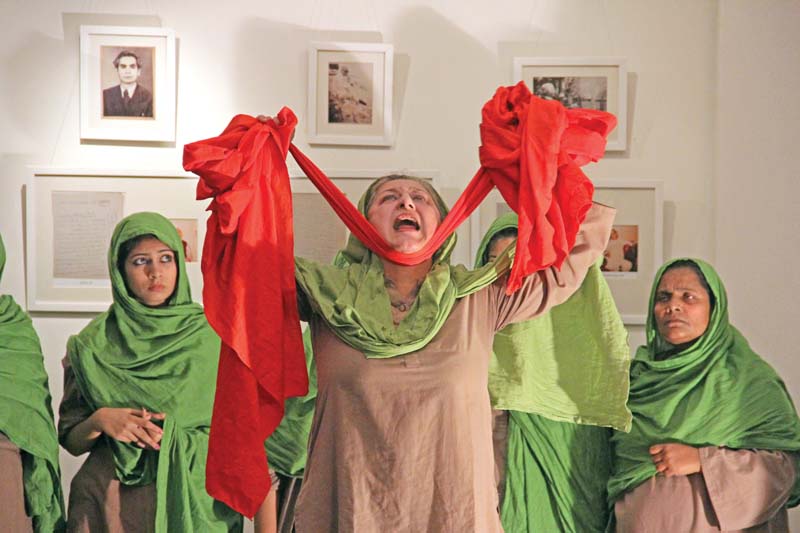 ---
KARACHI: Ni main kusamba chun chun haari [I am tired of picking up safflower]

The first line of a kafi about plight of flower pickers by Bulleh Shah gives it the façade of a tale of sorrow. However, a closer reading exposes the social forces involved in exploiting women who plucked flowers. The narrator's awareness of her oppression makes it a melody of empowerment instead.

Sangat, a feminist people's theatre and music group from Lahore, performed Chog Kusambey Di [Picking up Safflowers], a contemporary play by Punjabi poet and writer Najm Hosain Syed which is based on Bulleh Shah's kafi.

The performance was held at The Second Floor on Thursday evening to commemorate the legacy of late feminist poet and activist Nasreen Anjum Bhatti, who passed away in January, last year. The show was organised by UmangPoetry.

Just another open letter to feminists

The play gave an insight into the hopes each flower picker has and how they are shattered by men around them including traders, accountants and feudal lords. They are continually oppressed till they realise that they don't need to seek help from anyone but rather themselves become the force of change.

While the first narration of the kafi tells the tale of pain and suffering, the second one turns into a jubilant dance of empowerment and rebellion against exploitative forces, especially Malik Sahib, Mian Sahib and patwari as mentioned in the play.

Speaking about the play, Sangat member and play's director Huma Safdar explained the significance of kusamba [safflower]. The flower was used to make red dye in pre-colonial India; however, picking it up was quite difficult due to the thongs on its stems. Women used to pluck flowers all day and were barely paid for their endeavour, out of which they had to pay malba [tax] as well. The plight of flower pickers is similar to the exploitation faced by working class people in the contemporary world.

The group also performed on different scenes from Heer by Waris Shah to show the different kinds of characters Dheedo encounters after leaving his house; a maulvi, a boatman who refuses to let him travel for free, his future love interest Heer among others. The show was followed by a musical performance.

Meet one of Pakistan's fiercest feminists

Linguistic barriers

Since both the plays were in Punjabi, Safdar remarked, "We [Sangat group] love all languages equally." Languages have allowed us to end alienation and overcome blockades. "For us, there is neither any competition between languages nor we believe that one language dominates others."

Coming to Karachi for the first time, she said that whenever someone comes from India to Lahore we always get very excited at the thought of overcoming man-made borders. "However, while coming to Karachi I felt a similar feeling of breaking barriers to be able to come here and perform", she added.

Published in The Express Tribune, January 7th, 2017.

 
COMMENTS
Comments are moderated and generally will be posted if they are on-topic and not abusive.
For more information, please see our Comments FAQ