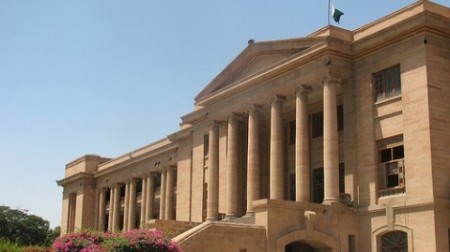 ---
KARACHI: The Sindh High Court on Wednesday ruled that the presidential election could not be called into question in constitutional jurisdictions before the high court.

A division bench, comprising Chief Justice Sarmad Jalal Osmany and Justice Zahid Hamid, observed this in reasons pronounced today that followed dismissal of a constitutional petition on April 21, 2010, seeking re-scrutiny of President Asif Ali Zardari's nomination papers for Presidential election. Petitioner Maulvi Iqbal Haider cited President Asif Ali Zardari, candidates for presidential election 2008 Justice (retired) Saeeduzzaman Siddiqui, Mushahid Hussain Syed, chief election commissioner and the law secretary as respondents.

He argued President Zardari's nomination papers were liable to be re-scrutinised in light of the Supreme Court's judgment on National Reconciliation Ordinance 2007 passed on December 16, 2009. He submitted that the CEC dismissed a reference challenging eligibility of President Zardari, observing that validity of nomination papers filed in 2008 for office could not be allowed to be challenged in 2010. The court order said:

"Briefly stated the facts of matter are that petitioner had challenged the election of Mr Asif Ali Zardari before Chief Election Commissioner, as the President of Pakistan, which was held on September 6, 2008, and ultimately the incumbent was declared successful. Election Commission of Pakistan, vide order dated March 1, 2010, dismissed case filed by petitioner before him on ground that vide Article 41(6) of the Constitution, validity of election of the President cannot be called in question by or before any court or other Authority.

"Similarly, it was held that under Article 63(2) and (3) when any question arises whether a member of Parliament has become disqualified from being a member, the Speaker, or, as the case may be, the Chairman shall, within thirty days refer the same to Chief Election Commissioner.

Published in the Express Tribune, May 13th, 2010.