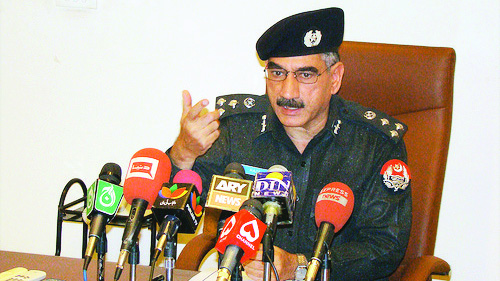 ---
LAHORE: The Lahore High Court (LHC) declared the appointment of Deputy Inspector General Ahmed Raza Tahir as the Capital City Police Officer (CCPO) illegal on Wednesday, setting aside the notification of his appointment and directed him to relinquish charge "immediately."

A division bench of the LHC comprising of Chief Justice (LHCCJ) Khawaja Muhammad Sharif and Justice Waqar Hasan Mir issued this order on the suo motu notice taken against the appointment. The bench observed that the appointment of a person against whom a judge of the same court had recommended action for his failure in controlling the Gojra riots on August 01, 2009 is "indistinguishable from contempt of court." In the riots, eight Christians were killed including four women and a child over the alleged desecration of the Holy Quran.

Justice Sharif directed the provincial government to immediately withdraw its notification otherwise the court itself would do it. Punjab Advocate General (AG) Khawaja Harris sought one day for a written reply which the bench denied. The AG argued that according to the law, appointment of the CCPO was not a contempt of court as the judge holding the inquiry was member of a tribunal and not the part of the LHC.

The court questioned the AG as to why he did not stop the Punjab government from carrying on with the appointment adding that the person responsible of issuing the notification should be put behind bars. The LHCCJ said that a person, against whom the inquiry tribunal had recommended action, was appointed as CCPO as a reward for him and asked as to how such an incompetent person was appointed. The AG said that the Punjab government had forwarded its recommendations for action against Tahir to the federal government in light of the recommendations of the inquiry.

The AG said that since August 2009, when the inquiry was initiated against Tahir, to February 21, he was not appointed on any post. In February he was appointed as RPO Bahawalpur and was on the post till the day he was appointed CCPO Lahore. The LCHCJ said that he was unaware of his appointment as RPO Bahawalpur. The AG added that the Punjab government made his appointment as CCPO after through deliberations adding that "unfortunately, Tahir was the most suitable person for the post."

Published in the Express Tribune, May 13th, 2010.