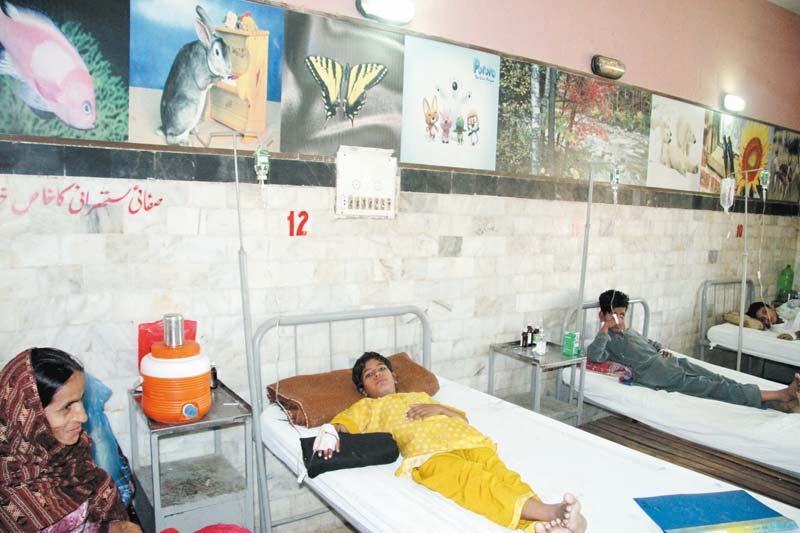 ---
KARACHI: Total number of Chikungunya cases has risen to 369 as of Monday evening, according to the data received by the Karachi health director Dr Waheed Panhwar.

The majority of the cases have been reported in Khokhrapar, Ghariababad, Kalaboard and Ghazi Goth areas in District Malir and a few adjoining union councils of Korangi.

Three Chikungunya cases confirmed in Karachi

"Although the ratio of patients suffering from the Chikungunya virus has been decreasing due to the measures being taken by the health department, there is still more to be done," Panhwar told The Express Tribune.




According to him, 49 and 48 cases were reported on December 19 and December 20 respectively, whereas, the figure dropped to five and 11 cases on last Sunday and Monday respectively.

Initially, nine samples were sent to the National Institute of Health in Islamabad from where four cases were tested as positive, said Panhwar, adding that the government will not be sending the blood samples of all the victims as the existence of a novel but non-fatal viral fever has been confirmed and relying on the clinical examination, the health department has initiated the treatment of all 369 victims.

According to World Health Organisation's definition of Chikungunya and the data collected by the health department, all 369 Chikungunya virus cases have been put on treatment as, without laboratory investigation, they share symptoms similar to those patients who have tested positive for the virus, he said, adding that Sindh has no laboratory kits to diagnose the disease.

"The vector needs to be controlled so the infectious virus can be stopped from spreading," he said, while suggesting the method to stop mosquito-borne diseases from taking shape of an epidemic.

Chikungunya virus: 235 cases being investigated

This mosquito-breeding cycle needs to stop, he said, suggesting that larvicidal activity and fumigations need to be carried out to stop mosquitoes from breeding.

As a precautionary measure, indoor residential sprays have been carried out in more than 15,000 rooms in the residential areas of Malir that were affected by the virus, said Panhwar.

However, he said that all other four districts of Karachi are Chikungunya-free fever, while referring to the reports received by him through the district health officers.

Earlier, the first three cases of the disease were confirmed positive on December 22, last year when five blood samples were sent to Islamabad after a hype created by the media regarding the identification of the viral fever.

Published in The Express Tribune, January 4th, 2017.
COMMENTS
Comments are moderated and generally will be posted if they are on-topic and not abusive.
For more information, please see our Comments FAQ