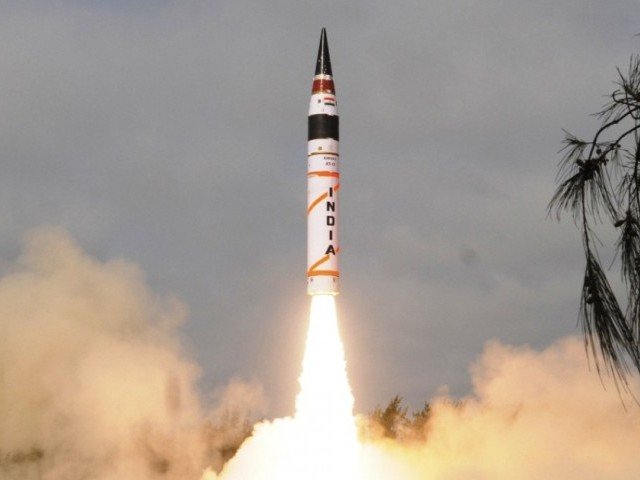 ---
India has reportedly test-fired Agni-IV, a long range nuclear-capable strategic ballistic missile, with a strike range of 4,000km from Abdul Kalam Island, off Odisha coast.

"Supported by a mobile launcher, the surface-to-surface missile was flight tested from launch complex-4 of the Integrated Test Range (ITR) at Dr Abdul Kalam Island, formerly known as Wheeler Island, at about 11.55 hours," The Economic Times quoted sources in the Defence Research and Development Organisation (DRDO) as saying.

Agni-IV is a two-stage, surface-to-surface missile that can travel 4,000km and can carry a nuclear warhead weighing one tonne. According to The Hindu, Agni-IV had been launched five times earlier in 2011, 2012, twice in 2014 and once in 2015 and all the five were missions remained successful.

India's nuclear-capable Nirbhay cruise missile test fails for fourth time

The test came less than two weeks after India's much-hyped Nirbhay cruise missile, which was touted to carry nuclear warheads to a range of 1,000km, failed for the fourth time. The subsonic missile had been tested four times since March 2013 but failed to achieve the set parameters.

Not only it failed to yield the expected results, the missile had to be destroyed in the air as it had deviated from its path and was termed as an 'utter failure'. Among the four tests that were carried out, Nirbhay missile's second test was considered 'a partial success' in October 2014. All other attempts were dubbed failure.

Nirbhay, which had been in the making for almost a decade, was meant to provide the Indian armed forces with nuclear-tipped land-attack cruise missiles (LACMs). If it had been a success, Indian would have been in a position to counter Pakistani Babur LACM.