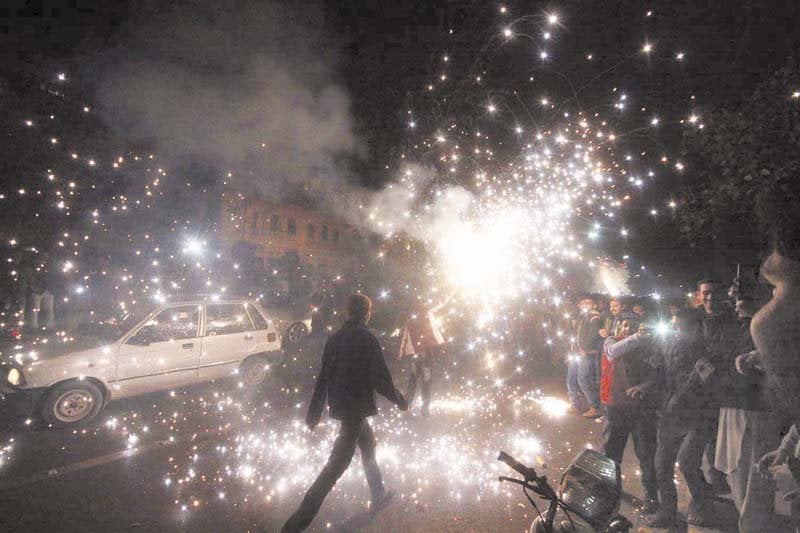 ---
Like elsewhere in the world, jubilant Pakistanis in different districts of Punjab celebrated the arrival of New Year, marking the end of 2016.

Loud firecrackers and sporadic aerial firing was heard in different cities and districts as the clocks struck midnight.

Spectacular displays of fireworks were also organised in different cities to welcome the New Year.

The year 2016 with its cheerful and grim memories became past as soon as the clock struck 12, opening the door to new hopes and dreams for 2017.




Youngsters danced to the beat of drums and music, while special programmes were held in different cities of Punjab. Meanwhile, commuters suffered a great deal as massive traffic jams were witnessed on major thoroughfares in different cities, including Lahore, Multan, Sargodha and Sialkot.

Does 2017 have any hope for the 'dissappeared' in Pakistan?

On the occasion, heavy deployment of police and law enforcement agencies was witnessed to control any untoward incident.  There were media reports that several people were arrested for creating law and order, aeriel firing and other offences on New Year eve in Lahore, Multan, Gujranwala, Faisalabad, Okara and other districts. In addition, a number of people were injured due to aerial firing across the province, while fatalities were also reported.


Police arrest youngsters in Cantt area of Multan. PHOTO: ONLINE

This year too, the police failed to stop people from resorting to aerial firing that had become a menace for the citizens despite imposition of Section 144 in various districts of Punjab.

Impounded

The city traffic police have impounded 1,236 motorcycles in addition to arresting 70 wheelies on New Year night in Faisalabad.

A CTP spokesperson said a comprehensive strategy was chalked out to discourage one-wheeling, overloading, and rash driving on New Year night.

The traffic police also impounded 1236 motorcycles on charge of overloading, rash driving and violating traffic rules. A fine of Rs3.7 million was recovered from law violators, he added.

Similarly, vehicles and two-wheelers were also taken into custody by police in large numbers in other districts.

Published in The Express Tribune, January 2nd, 2017.