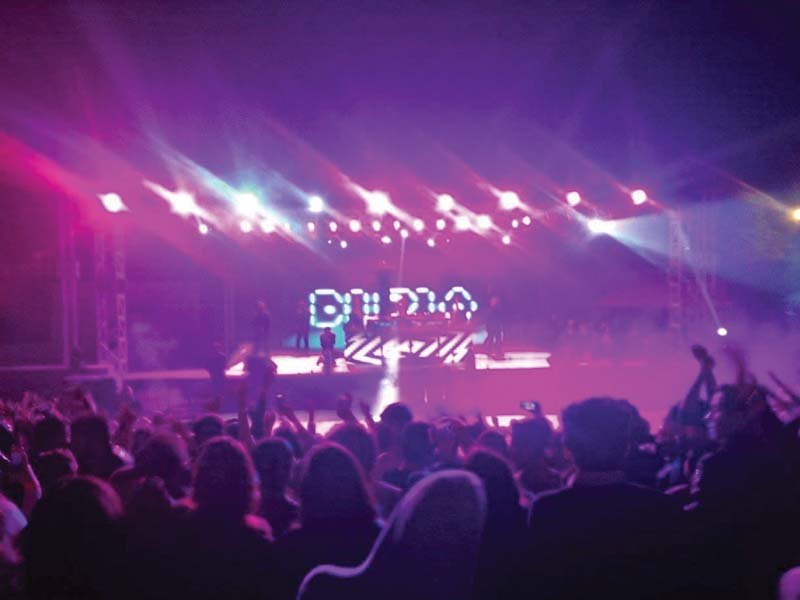 ---
KARACHI: The night of February 27, 2016, will be etched  forever in the memories of electronic dance music aficionados in Pakistan.

In a country where it is near-impossible to get mid-tier foreign acts to perform, Diplo – a three-time Grammy-winner – headlined a concert at the Rock Musicarium in Islamabad.

Islamabad raises hands for DJ Diplo

The American DJ-producer was joined by two Swedes — singer Elliphant and DJ Pellegrosso — along with well-known Pakistani musicians Adil Omar, Talal Qureshi, Quratulain Baloch, and a few local acts.

Music aficionados from all parts of Pakistan, from as far as Karachi, came to Islamabad especially for the concert.

After the local acts, the main performers Elliphant and Pellegrosso took over the stage. The Swedish singer performed original material and some of her myriad of collaborations.

Pellegrosso later described the experience as "lovely", while adding that he "would like to come back soon to play in Pakistan again".

By the time Diplo took the stage, the audience already seemed to be brimming with energy, but there was more to come.

"I love your energy, give me some more," he said as the crowd grew louder. The first wave of explosive reactions came to mixes of Sorry by Justin Bieber and Get Low by Dillon Francis.

"I was really nervous playing [here], but you guys are really cool, I swear!" Diplo exclaimed midway through his two-hour set.

In a change of tone, Diplo also slid in a mash-up of Sean Paul's Sexy Lady and then – much to the audience's delight - Panjabi MC's Mundian To Bach Ke.

He then played some of his music produced under his Major Lazer collaboration.

"Thank you Pakistan, it's an honour to play with you, to party with you, and dance with you while we're young," he said, in reference to the lyrics from Major Lazer's 2015 hit 'Lean On'. He then dropped the same song and started performing the Indian-inspired dance moves from the music video while waving a Pakistani flag.

By the time he ended his show, sharing his desire to hear more music from this part of the world, members of the awe-struck crowd were still in shock at the fact that an A-list foreign musician had performed in front of them. Fans from Lahore and Karachi seemed equally upset at the fact he only performed in Islamabad.

Diplo set to headline concert in Pakistan next month

"Why not Karachi or Lahore?" they said.

"Because sleepy and safe trumps lively and deadly," Islamabadis said.

Organiser Ibrahim called the experience "surreal", adding that he was happy that the event met people's expectations and helped show the world a different side of Pakistan.

Incidentally, Elliphant also stayed back in Pakistan to shoot the video for her single 'Spoon Me' – which has around 3 million views on YouTube – showcasing the lush and verdant  countryside around Islamabad.

Return of theatre

The year also saw the return of theatre to the capital, albeit it was not free of controversy.

The Ajoka Theatre was first due to perform in August performing two of its plays including Anhi Ma Da Sufna and Kabir Khara Bazaar Mein. However, the Pakistan National Council of Arts initially denied the theatre company permission to play it believing that the play was too controversial. A few months later, with a change in management after actor Jamal Shah was elected as the director of the council, the company was granted permission to stage the play.

2017 outlook

With a new director general in charge at the PNCA, the Lok Virsa earning the support of Senators and a precedent of an international act performing successfully in Pakistan - which is not Akcent  - Islamabad's residents hope that the new year brings with a bevy of acts which would finally make it the 'capital' of entertainment in Pakistan.

Published in The Express Tribune, January 2nd, 2017.
COMMENTS
Comments are moderated and generally will be posted if they are on-topic and not abusive.
For more information, please see our Comments FAQ