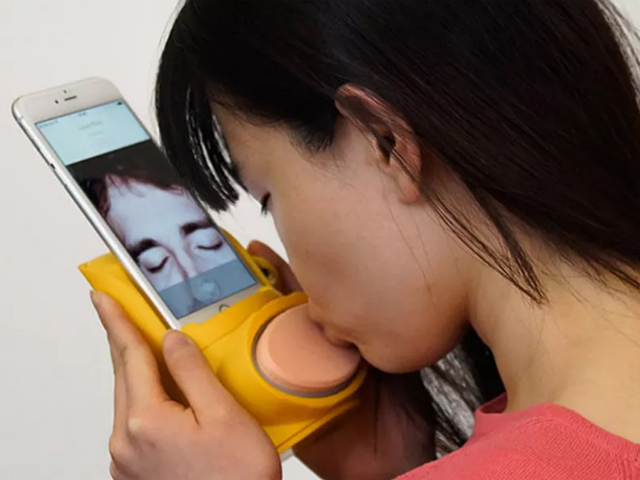 ---
Every now and then there comes a device that baffles our mind and we are forced to think: "why would they create this?"

Kissenger is also one such invention that intrigues our mind. The gadget which is termed a "kiss messenger" is developed by the researchers at the Imagineering Lab at City University London. According to developers, Kissenger replicates your kiss to a paired device which will kiss the recipient for you.




"Kissing is the most direct and effective way to express your feelings and love. With Kissenger, you can kiss your loved ones even when you are physically apart," said Mixed Reality lab on its website.

How it works

The phone dock looking gadget has a silicon pad in front of it. When a user can kiss the pad, high precision force sensors embedded under the silicon lip measure the dynamic forces at different parts of user's lips during a kiss. The device then sends this data to your phone, which transmits it to your partner over the internet in real time.




Miniature linear actuators in the paired device reproduce these forces on your partner's lips, creating a realistic kissing sensation, the developers claimed. User can also feel their partner's kiss on their lips when they kiss them back.

Internet meltdown as Tinder crashes

However, we are still unclear how realistic the kiss will be. Currently, the device is in its prototype phase. For now, it seems the Kissenger app is available on iOS only.
COMMENTS (3)
Comments are moderated and generally will be posted if they are on-topic and not abusive.
For more information, please see our Comments FAQ