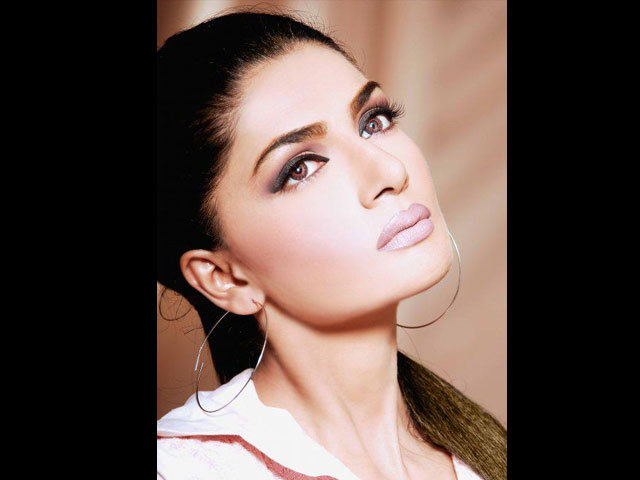 ---
LAHORE: One look at any of Iffat Rahim's pictures and you will know why she became one of the most influential models of her time. Her naturally alluring features add character to any given frame, be it a close-up or a long-shot. And she is still as charming as ever.

After completing her Masters in Fine Arts from Punjab University, Rahim spent the late 80s and early 90s as a high-fashion icon before switching from modelling to acting. Since then, she has appeared in many music videos and TV serials, the latest being Dil Nasheen and Imam Zamin.




Mother to a 16-year-old named Noor-e-Jahan, Rahim now splits her time between acting, hosting, painting and motherhood. "As her name signifies, my daughter is the light of my life," she told The Express Tribune.

Pakistan's first transgender model makes debut with stunning photoshoot

When asked to describe a model's life and career, Rahim gave a surprising response. "In Pakistan, a model's life is like a war zone. It is one of the most difficult professions to be in here," she says. "We have to explain ourselves to everyone, give justifications as to why we came back so late from shoots, etc.  People are so judgmental about models generally. Back in the day, I'd hear people say that modelling is haram all the time."




Rahim strongly believes that an artist should not become a burden on the industry and take a bow while he or she is still relevant. "Nowadays, girls are maintaining themselves so well that they can stretch their career till the age of 30 but after that, they will be just clinging on to it gracelessly," says the actor. "I left modelling when I was 24 because I got married. I also started feeling very uncomfortable doing the catwalk with people looking at me and judging me. I honestly preferred photo shoots more than the ramp."

Throwback Thursday: ZQ still gets the fire burning

Having said that, it was less about getting married and more about how models are typecast in Pakistan that made Rahim  pull the curtain on a flourishing career. "Pakistani society sees models as escorts; they are not given the respect they deserve. You may call these double standards but I was being ogled on the ramp and that made me very uncomfortable."

From being a diva to a veteran model, Rahim has finally found peace in her journey. She claims that she has never gotten any facial procedures, despite the stigma  attached to old age, especially women. "I am playing the role of a mother and other older characters these days and so is Mahnoor Baloch and still, but people judge us on our age, rather than our performances."




Recalling the better days of the fashion industry, Rahim misses how everyone would travel together and party as one big happy family. "There were no grievances or jealousies. In fact, if one model would not like an outfit, we would gladly exchange it. More than colleagues, we were friends and still share the same relationships."

Rahim observes that models of today have a very different approach to their craft as compared to her heydays. "One thing is for sure: we all took our academics very seriously. Modelling was just our part-time job. Aaminah Haq, Zainab Qayyum, Vaneeza Ahmad … all of us completed our degrees and then became models," she says. "Also, back then, only educated girls from good families came into the industry. Nowadays, it seems like just about anyone can become a model."

How Atiya Khan left modeling to find peace at Lal Shahbaz Qalandar's shrine

Nonetheless, one current it-girl who has caught her eye is Amna Baber. "Let me give the devil its due: I am really impressed by Amna Baber. She is the most well-dressed, chic model in the current fashion scene and I'm amazed at how, in such a short time, she has groomed herself so much," says Rahim.




"Amna carries herself like an international model. Back in the day, it was Iman Ali and she's still a super star. Iman not only made the most money amongst all of us but was the most professional as well. She really made her mark."

On a parting note, Rahim left some advice for aspiring models. "You have to keep your grace and dignity intact," she asserts. "Do not, ever, compromise on your education for modelling. And when you're done, exit with class and dignity because you know when to leave."

Throwback Thursday is a weekly feature in which we document the lives and careers of Pakistan's veteran models.

Have something to add in the story? Share it in the comments below.
COMMENTS (1)
Comments are moderated and generally will be posted if they are on-topic and not abusive.
For more information, please see our Comments FAQ