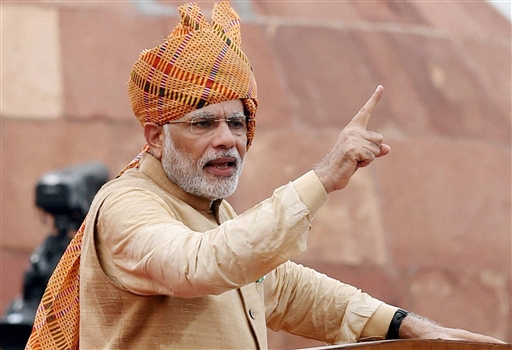 ---
ISLAMABAD: Exactly a year ago, India's Prime Minister Narendra Modi had made a surprise stopover in Lahore while flying to Delhi from Kabul to wish his Pakistani counterpart on his birthday and also attend the wedding of Nawaz Sharif's granddaughter.

The move raised hopes for possible dawn of a new era of cooperation between the two nuclear-armed neighbours whose ties have often been bedeviled by acrimony and lack of trust due to unresolved disputes, particularly Jammu and Kashmir.

Modi departs from Pakistan after brief surprise visit

But the hopes proved short-lived as a few days after Modi's stopover, a militant attack on India's Pathankot airbase led to the collapse of the peace process the two countries had agreed to revive.

The year 2016 was arguably the worst in terms of relations between the two neighbours since 2001 when they were on the brink of a war following the attack on India's parliament.




In the last 12 months, the two countries not only hurled verbal threats at each other but their troops also engaged in bloody clashes along the Line of Control and Working Boundary leaving scores dead on both sides.

The Modi administration threatened to isolate Pakistan globally and raised the spectre of a possible war on water issues after it vowed to revisit the 1960 Indus Waters Treaty that has survived three wars and strained relations between the two states.

Modi greets PM Nawaz on his birthday

But as 2016 nears its end, there is a possibility that the new year may see a positive twist in ties between the two neighbours.  Diplomatic sources and officials told The Express Tribune that Pakistan and India may restart the engagement process.

An Indian diplomat, who spoke on condition of anonymity, confirmed that the Indian premier might review his current strategy towards Pakistan and offer another 'olive branch'.

He did not provide a timeframe but observers believe the Modi administration may be waiting for state elections in Punjab and UP – scheduled to be held in March – before any policy shift towards Pakistan.

As a prelude to a potential thaw, Modi on Sunday extended birthday wishes to Premier Sharif. "Birthday wishes to Pakistan PM Mr Nawaz Sharif. I pray for his long and healthy life," he said in a post on Twitter.




The diplomat said that although the current public sentiment was not in favour of talks with Pakistan unless the issue of alleged cross-border terrorism was addressed, Modi knew how to galvanise public opinion. "Whenever he [Modi] makes any overture to Pakistan, rest assured it will not be half-hearted," the diplomat added.

Modi losing friends as anger grows over Indian cash crackdown

He said unlike the previous administration, the current Indian government under Modi was following a 'clear-headed approach'. "Pakistan for too long had become used to dealing with governments in India which had not taken a tough stance on some of the issues, particularly cross-border terrorism," the diplomat said. "But Prime Minister Modi is different," he added, explaining that when he pushed for peace process he did it with full sincerity.

He recalled that a few weeks after their national security advisers met, the foreign ministers of Pakistan and India held talks in Islamabad and then Modi himself travelled to Lahore. "Can you recall a single instance where any Indian prime minister has moved so swiftly?"

The diplomat blamed the Pakistani government for not taking advantage of Modi's 'peace overtures' by referring to the incidents such as those in Pathankot and Uri.

But the Delhi's 'muscular foreign policy' has failed to achieve tangible results, according to observers, who believe that with such a hardcore approach, India has in reality weakened the pro-peace constituency within Pakistan.

India speeds up efforts to make full use of Indus River

Despite Indian belligerence, Islamabad continues to maintain that it is not shying away from resuming peace talks with Delhi. Although India has adopted a policy of staying away from any engagement even on multilateral forums with Pakistan, Prime Minister's Adviser on Foreign Affairs Sartaj Aziz travelled to Amritsar earlier this month to attend the Heart of Asia conference on Afghanistan.

India on Friday insisted that it had never refused talks with Pakistan while stating that it was the Asian neighbour which had to ensure a peaceful atmosphere for the same.

"We have never refused talks, but Pakistan has to ensure a peaceful atmosphere. Pakistan needs to stop supporting terrorism. Pakistan should create a healthy atmosphere for talks," India's external affairs ministry spokesman Vikas Swarup said in a weekly news briefing.

But Pakistan has always maintained that it can never accept any preconditions for the resumption of talks, saying all issues should be discussed simultaneously.

Published in The Express Tribune, December 26th, 2016.

 
COMMENTS (18)
Comments are moderated and generally will be posted if they are on-topic and not abusive.
For more information, please see our Comments FAQ