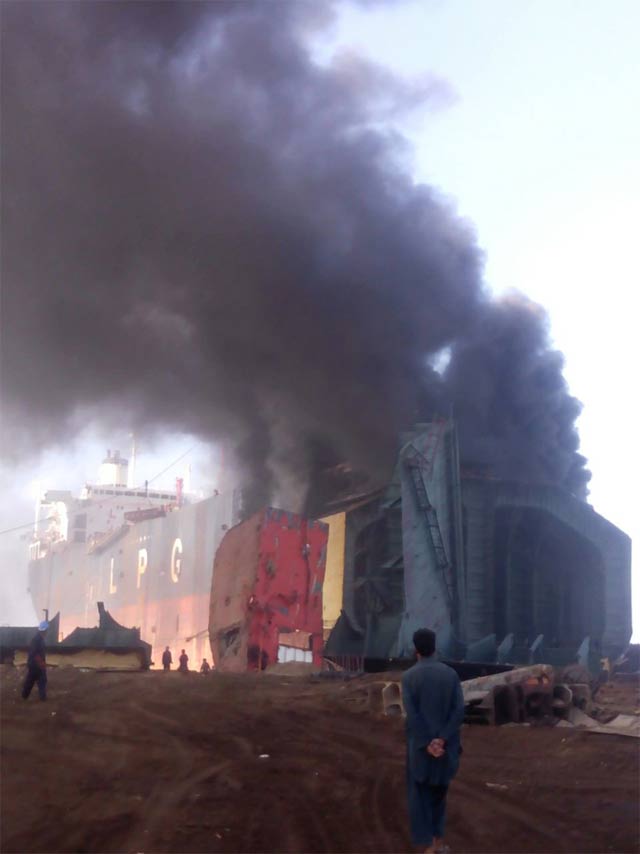 ---
Fire engulfed an LPG carrier which was being broken up for scrap at Gadani shipbreaking yard on Thursday.

A statement issued by the National Trade Union Federation of Pakistan revealed around 100 workers were on-board when the ship caught fire. No casualties have been reported.

According to initial information, workers began dismantling the ship owned by former chairman of Ship-Breakers Association Deewan Rizwan before cleaning out fuel.

Firefighters struggle to douse Gadani ship blaze




Gadani is the second largest shipbreaking centre of the world after Alang, Mumbai where more than 15,000 workers are directly employed while another two million are earning livelihood indirectly from it.

At least 16 people were killed and 59 wounded last month when a gas cylinder exploded and started a fire inside an oil tanker being broken up for scrap Gadani shipbreaking yard, officials said.

"A gas cylinder explosion caused a huge fire in the ship which was being dismantled," Balochistan Home Secretary Akbar Harifal said, ruling out a deliberate attack.

Blast rips through ship in Gadani; 16 dead

Nasir Mansoor, a representative of the National Trade Union Federation of Pakistan, said the explosion was so big it blasted pieces of metal two kilometres away.
COMMENTS
Comments are moderated and generally will be posted if they are on-topic and not abusive.
For more information, please see our Comments FAQ