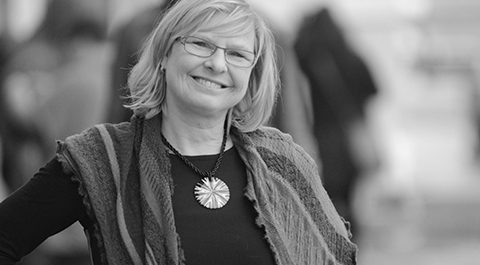 ---
KARACHI: With an experience of hosting the oldest and biggest book fair of the world, Frankfurt Book Fair vice-president Claudia Kaiser visited Karachi's biggest book fair, Karachi International Book Fair, so that the organisers could learn from her.

In 1949, after World War II, the Frankfurt Book Fair grew enormously, Kaiser told The Express Tribune, adding that the five-centuries-old book fair has grown enormously in the last 69 years.

The Frankfurt Book Fair is not just for selling books, it is mainly a platform for networking and we take a business-centric approach, said Kaiser. "Our book fair is quite different from what is exhibited in Karachi," she said.

The Frankfurt Book Fair has 7,100 exhibitors from more than 120 countries. It is a kind of United Nations of publishing, she said, adding that Karachi has every potential and resource to organise a book fair as big as the one in Frankfurt.

There have been representatives from Pakistan at the Frankfurt Book Fair for the past few years but they only have two publishers exhibiting as visitors and not a proper representation like other countries, shared Kaiser.

Book fairs are the best way to integrate youth with themselves and to make them read books regularly, she explained. "Karachi's book fair is five-days long, just like Frankfurt's, but ours is divided into two phases. The first three days are for professionals and the last two days are for the general public," she explained, adding that the Frankfurt fair invites children to participate in competitions while authors are also present for public readings.

In terms of content generation, the West is not doing too well, while Pakistan is full of youth with potential which should be utilised for integration into different mediums through the internet, online books and entertainment, said Kaiser. "More books should be published and promoted to encourage young authors to write," she said.




Sharing her experience in Pakistan, she said that everyone she met was warm-hearted and she now has answers for everyone in Germany who told her to think twice before going to Pakistan.

"This is not the first time I am saying that Pakistan is a country of beautiful people," said Kaiser, explaining how her visit to Islamabad in 1996 changed her perception. Pakistan has the most beautiful mountainous regions, she said, commenting on her visit to China through the Karakoram Highway after visiting Gilgit-Baltistan and the Swat Valley. This is the first time she has visited Karachi.

These negative views only exist because of the portrayal in the media. The reality is very different and I will go and tell everyone that you do not need to be afraid of coming here, she added.

Complaining about only one thing about the people in Karachi, she said that she felt there are a few locally written books available in the country to be read. "I read at least one author from every country I visit while in Pakistan I haven't found a good one yet," she said, hoping someone would provide her with a list of authors so she can read their work. "I love to read the work of authors from different countries because every country has a different way of writing".

Role of government

Governments should take strong steps to promote the culture of reading in children, asserted Kaiser. While sharing some research, she said that studies revealed that children who read as a hobby are more intelligent than their counterparts who do not read and find it easier to learn.

Giving an example of Indonesia, Kaiser added that the world needed to make transformations like them. Indonesia has made it mandatory for children to read 15 minutes a day at minimum, she said. "We miss those times when parents used to read stories to their children, whether it be bedtime stories or encouragement towards reading novels," she lamented.

Lack of translation

Most of the books [from Asia] are translated into English only but books need to be translated into other languages too, believed Kaiser. "I don't find books translated from India and Pakistan in Germany," she said.

Published in The Express Tribune, December 21st, 2016.