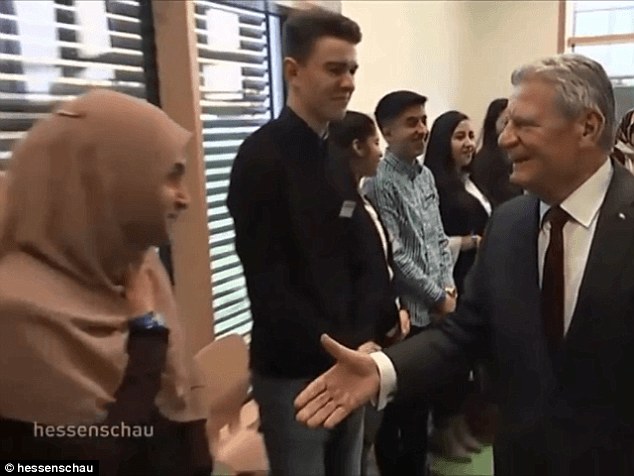 ---
A Muslim girl refused to shake the German president's hand while the latter visited her school after the institution drew acclaim for promoting national integration.

Footage from the end of last month showed President Joachim Gauck greeting students. But when the president held out his hand for the Muslim girl, she quickly moved her hand away, placed it over her chest and bowed her head.

Outrage as Muslim pupils exempt from shaking female teachers' hands in Swiss district

The pair then exchanged smiles and he moved on to the next student in line. Mr Gauck's visit to the Theodor Heuss School in Offenbach was organised after the school earned praise for successfully helping migrant children learn the German language and culture. According to Daily Mail, the woman did not say why she had moved away from the hand shake.

No ifs and buts: Muslim boy must shake hands with female teachers

This is not the first time Muslims have refused to shake hands with members of the opposite sex in Europe. Earlier this year, teachers at a school in Germany stormed out of a graduation ceremony after a Muslim pupil refused to shake hands with female staff on "religious grounds." As the female teacher at the Kurt-Tucholsky School in Hamburg went to shake the hand of the student he offered his wrist instead saying, "No offence, my religion won't let me do that. I do not mean to disrespect you."

German teachers stage walkout after Muslim pupil refuses to shake hands with female staff

In April, two male students in Basel complained that the Swiss custom of shaking hands with the teacher contradicted their religious beliefs if the teacher was a woman. They argued that Islam did not permit physical contact with a person of the opposite sex, with the exception of certain immediate family members. As a result, the school decided that they would no longer have to shake hands with their female teachers, stoking a nationwide uproar.

This article originally appeared on Daily Mail.
COMMENTS (8)
Comments are moderated and generally will be posted if they are on-topic and not abusive.
For more information, please see our Comments FAQ