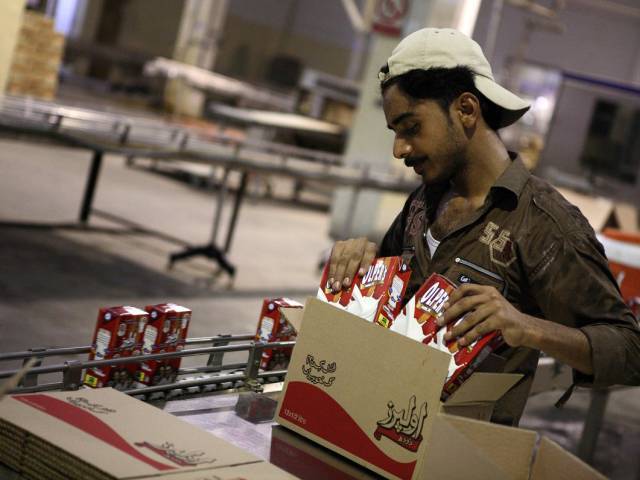 ---
KARACHI: Dutch company FrieslandCampina Pakistan BV (FC Pakistan) has completed its acquisition of a majority stake in Engro Foods at an estimated price of $446.81 million and the company is expected to bring in expertise and introduce new products.

The Netherlands-based dairy company has acquired 51% stake at Rs120 ($1.14) per share in Engro Foods. It acquired 47.1% (or 361.29 million shares) from Engro Corporation, the parent company of Engro Foods, and another 3.9% (or 29.66 million shares) from general public, Faiz Chapra, Company Secretary, said in a notification to the Pakistan Stock Exchange on Monday.

Chinese concept of Silk Roads beyond CPEC, says Dr Di Meglio

Engro Foods' share price fell 1.05%, or Rs1.82, and closed at Rs170.03 with a volume of 1.34 million shares at the exchange on Monday. Engro Corporation's share price increased 0.81%, or Rs2.53, and closed at Rs311.08 with a volume of 555,100 shares.

Chairman of Engro Foods Board of Directors, Samad Dawood, said in the notification, "Not only was Engro Foods able to achieve its vision of elevating consumer delight and wellbeing by adding nourishment to the food market but the company was able to enhance the lives of 12 million consumers through its utmost sincerity and motivation each and every day.

"This is only the beginning of a better and brighter future for our organisation and this novel partnership with the Royal FrieslandCampina Group will not only bring growth and prosperity for all of us but will also tell a story about Engro's commitment to growth and creating a broad-based impact for now and generations to come."

Dutch company to buy Engro Foods for around $460 million

Analysts said the acquirer had a history of having expertise, which would be brought to Pakistan to develop new products in the foods segment. At present, the packaged milk, juices and ice cream remain some of the leading products of the company.

Final price

The company secretary added the final sale price would be calculated within 40 days after preparation of closing statements reflecting the adjustment for certain items including debt and debt-like items, cash and cash equivalents and working capital (final sale price).

Any price difference between the estimated sale price and the final sale price will be settled between Engro Corp and FrieslandCampina Pakistan as per the sale and purchase agreement.




Engro Corporation Group Chairman Hussain Dawood said in the notification, "This is a defining moment for Pakistan. It is the validation of Pakistan as investment friendly and adds significant value to the country. Our group has a history of bringing foreign direct investment by joint ventures. This momentous partnership signifies our continued contribution to our nation's economic prosperity and a healthier younger generation."

Engro Corporation Chief Executive Officer Ghias Khan added, "the Royal FrieslandCampina Group shares our commitments to community and eradicating malnutrition. This partnership means Engro Foods gaining new capability, localised innovation and right drivers for long-term growth."

Proceeds to energy projects

Analysts added the divestment in Engro Foods by its parent company was part of its long-term plans to diversify its investments into energy projects which offered comparatively higher rate of return.

Engro Foods' 2015 profit up 256%

The corporation also sold a stake in its flagship project, Engro Fertilizers, worth $185 million to institutional and high net-worth individual investors in June, they added.

So far, the conglomerate has made huge investments in Elengy Terminal Pakistan Limited at Port Qasim, which is the only terminal in Pakistan that handles import of re-gasified Liquefied Natural Gas.

Besides, it is also working on a Thar coal project in partnership with the Sindh government under the joint venture Sindh Engro Coal Mining Company, established in 2009.

Published in The Express Tribune, December 20th, 2016.

Like Business on Facebook, follow @TribuneBiz on Twitter to stay informed and join in the conversation.

 
COMMENTS (1)
Comments are moderated and generally will be posted if they are on-topic and not abusive.
For more information, please see our Comments FAQ