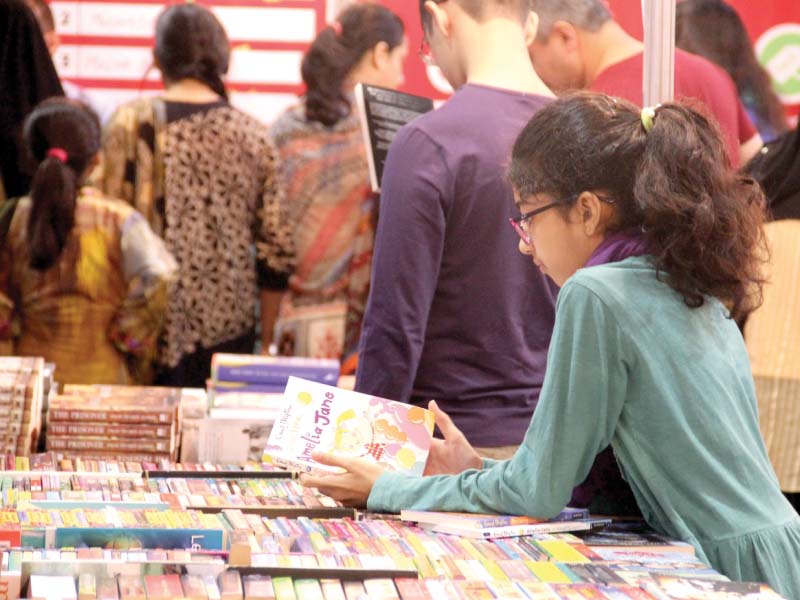 ---
KARACHI: As many as 500,000 avid readers, book worms and literati attended the whimsical world of the 12th Karachi International Book Fair, which ended on Monday.

Over the span of five days, the three halls of Expo Centre were full of readers standing in queues, shuffling through books and fighting one another over the last book on sale of their favourite author.

"The response has been quiet overwhelming this year and the sale has increased [over] the last few years," said a book seller at the Darussalam Publishers stall.

"We have been putting up our stalls since the book fair began 12 years ago," said Qamar Zaidi, the stall manager of Random Publications from New Delhi. He added that they offered a 25% discount on the books.

Setting up the stall for the second time at the book fair, Karachi University's four departments exhibited their publications. "Some of the books are for sale while many are for exhibition alone. We want the students to experience and get information about the university by visiting us here," said Pakistan Study Centre's assistant librarian, Muhammad Tahir.

Calling all readers

"I was so excited to visit the fair that I borrowed money from my siblings so I can buy [a lot of] books," said a student, Hina Farrukh, adding that book fairs are as important as food, music and movie festivals.

Moazzam Ali Alvi, who was accompanied by his father and two siblings, bought around 17 novels. "I bought all these books for only Rs3,500 from the fair while from the market I would have gotten them for at least Rs7,000," he claimed.

"This is the last chance to get a good book for a good price," remarked Sana Ali, a student of The City School, adding that such fairs should be held more frequently.  The reason to bring students in such fairs is to encourage them to read books, said a teacher, who was queuing up students in front of a book stall. The vast varieties of books allow them to choose books of their own taste, she said.

Running out of cash

Some visitors also suggested that organisers should also install temporary automated teller machines (ATMs) at the event to facilitate customers.

Institute of Business Administration student Ishtiaq Rahman, who visited the fair on Saturday and Sunday, said that he bought a lot of books on the first day and then ran out of cash. Since there was no ATM at the venue, he had to come again the next day to buy more books.

Published in The Express Tribune, December 20th, 2016.