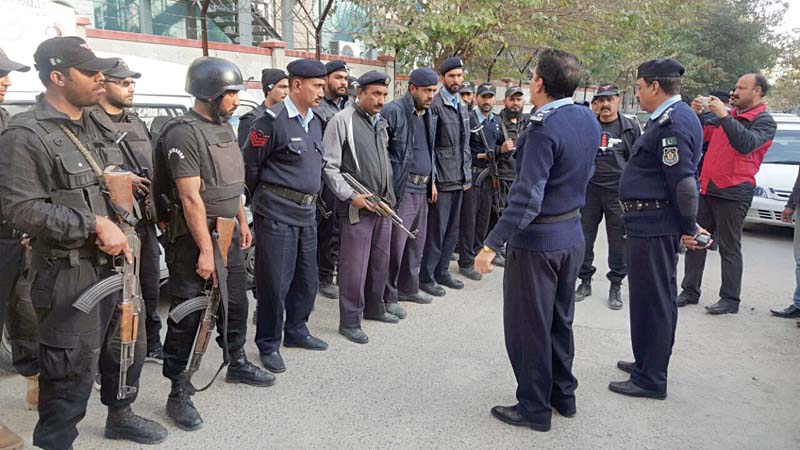 ---
ISLAMABAD: Hundreds of lawyers, litigants and visitors rushed out of the F-8 district courts in a frenzied panic on Monday morning after they saw heavily armed policemen in combat gear take up positions in and around the courts while hunting for 'terrorists'.

It was not till much later that police told the frightened public that it was all part of an anti-terror exercise.

Pakistan to participate in tsunami mock drill

On March 3, 2014, at least two suicide bombers had stormed the complex, lobbing grenades at security officials and firing their weapons before detonating their explosive vests. The attack killed 11 people and injured 25 others.

Monday's drill initially resembled some of those scenes as people heard Margalla SHO Inspector Asjad Mahmood make a call on his wireless set that four terrorists had entered the court premises and that there could be a terror attack underway.

Subsequently, squads of police commandos, Rangers and bomb disposal personnel arrived at the courts to respond to the situation.

Policemen in plain clothes cordoned off the entire premises, securing all eight entrances to the courts and evacuated people.

Police commandos then moved in, armed with assault rifles and pistols.

Later, the police told the public that it was an anti-terror exercise meant to check the preparedness of security officials.

The drill was sudden that not only the general public, but even some cops stationed at the courts mistook it as an actual attack. Many people started making panicked phone calls and inquiring about the situation from others.

Only judges of the sessions courts and bar representatives were informed about the drill beforehand. SP Saddar Muhammad Zeeshan Haider, who supervised the drill, said the purpose was to measure preparedness and response times.

Pakistan to participate in tsunami mock drill

"We were trying to check the response times of police, Rangers, the bomb disposal squad, and ambulances," Haider said, adding that the "police and Rangers responded within five minutes of the call."

The SP added that they had also measured how effective police teams were at cordoning off the area and evacuating people. "Everything was done effectively and the level of preparedness was satisfactory," he concluded.

SSP Sajdi Kiani said that such rehearsals were essential to prepare for emergency situation and to ensure security in the federal capital. He appreciated all the wings approach time, adding that police commandos performed well.

In recent months police have conducted a few such exercises including at major shopping centres such as the Centaurus Mall, media houses and educational institutes.

Published in The Express Tribune, December 20th, 2016.