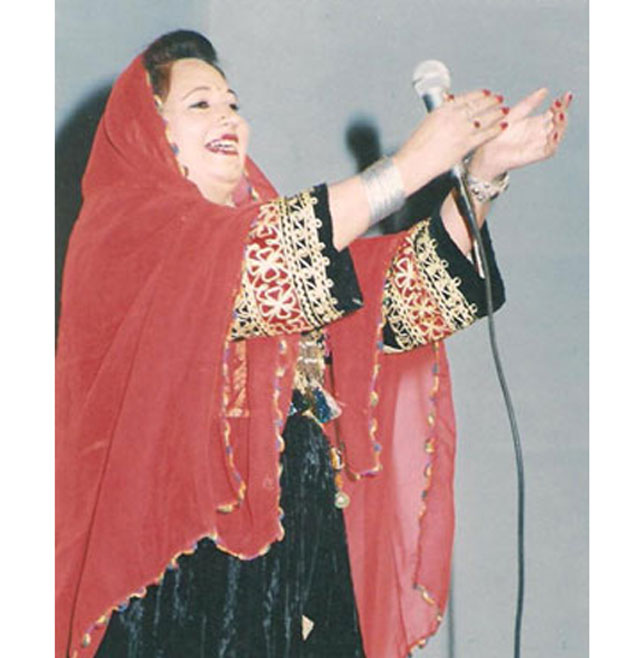 ---
PESHAWAR: Famous Pashto folk singer Mashooq Sultan died on Monday after protracted illness. She was 64. Her son Zawar Husain confirmed to The Express Tribune. She was suffering from hepatitis and diabetes for the last couple of years.

Mashooq, known as 'the queen of the stage', has left behind four sons and two daughters. She laid to rest at a graveyard in Peshawar later on the day.

The melody singer enthralled the Pakhtuns with her folk and traditional songs for several decades.

Pashto folk singer Mashooq Sultan awarded Rs0.5m

Born in 1952 as Sultana Bibi in Matta, a town in Khyber-Pakhtunkhwa's Swat district, she was married to Walayat Husain, son of the then famous tabla nawaz Ummat Husain.

Though she had not come from a musical family, after marrying Hussain, she shifted to Banr, a destination for musicians in Swat. Due to her love and affection for music, her husband encouraged her to sing and learn from leading musician Rahdat Husain.

From Radio Pakistan to television, she sang hundreds of songs during her decade-long career.

Presidential award

"She was very passionate about provinces' folk music and its preservation," said Layeq Zada Layeq, author of book Funkar Na Mari (Artist never dies). "Her death has indeed created a vacuum in the field of Pashto folk music."

The winner of prestigious presidential award, Mashooq was also honoured with more than 60 presents and medals for her services to Pashto music, Layeq added. "She was an institution in folk music and the most respected name associated with musical circles among the Pakhtuns in both Pakistan and Afghanistan."

Besides Pashto, she also sang in Urdu, Punjabi and Saraiki languages.

"She has learned from established musicians and within a short span of time recorded hundreds of songs," Aslam Khan, who is working on music Pashto music industry, told The Express Tribune.

During the last one decade, the fold singer complained about being completely ignored. She was confined to two-room rented, clay-made house in Peshawar. Recently, she got her one leg fractured and had no option but to sell her ornaments to pay the hospital bill.
COMMENTS
Comments are moderated and generally will be posted if they are on-topic and not abusive.
For more information, please see our Comments FAQ