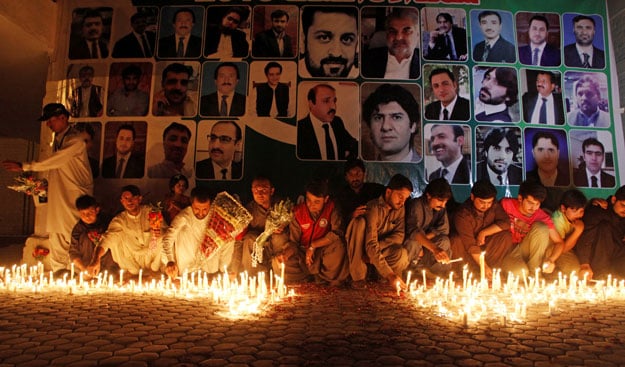 ---
Rare it is that a report emanating from any branch of the government or the judiciary in Pakistan has the impact of that of the commission formed to investigate the attacks in Quetta on August 8th 2016. The report is remarkable for its readability, clarity and forthright no-nonsense presentation. At least 74 people died in the attack, the majority of them lawyers, wiping out almost an entire generation of legal practitioners. Perhaps the most remarkable aspect of the report is that it does not shy away from naming names rather than just making vague indications of where responsibility lay for the many deficits it uncovered. Senior figures in both the federal and provincial governments are criticised, leading in the case of the federal interior minister to calls for a resignation being made by parliamentarians belonging to Opposition parties.

It will be recalled that the report called out the interior ministry for its 'monumental failure' to combat terrorism.

It now emerges that much of the detail obtained by the commission was sourced from the Balochistan Chief Secretary Saifullah Chattha. He it was that provided chapter and verse in a move unusual for a senior bureaucrat, thus giving the lie to the old saw that all bureaucrats are corrupt or inept or simply craven. He exposed the Balochistan Chief Minister and the federal interior ministry as failing across a spectrum or duties and responsibilities, a set of failures that stretch back years and have become institutionalised, making them all the more difficult to reverse as reverse they must be if terrorism is ever to effectively be fought.

A number of the Big Beasts are said to be consulting their lawyers in respect of the commission's findings that implicate them directly or indirectly. They will have been aware of the contents before it was released to the public as it could not have been released without the parties named being advised of its contents in order to seek their comments. How this will play out legally depends on whether the apex court makes the report a part of its verdict, and until it does the report has no legal status allowing those named in it to simply ignore it if they so choose. In defence of those named a senior PML-N lawyer has said that it was unfair to condemn government functionaries without them first being heard and that their right to explain their position has been foreclosed.

Legal considerations aside several cats have parted company with the bag, and it is now to be seen whether the fallout is going to have an on-the-ground effect or whether it will disperse on the political breeze. What the report has done whether by design or by accident, is provide a detailed work-list for both provincial and federal governments that is not limited only to countering terrorism.

Standing above most else is the need to eliminate inconsistencies regarding extremism and banned organisations. It is ridiculous to have an organisation banned from holding public rallies in Balochistan only to find that it is allowed to hold rallies in Lahore, and that with the blessing of the interior ministry. Equally it is unsettling to find a government minister consorting with the leader of three banned organisations and then having the temerity to deny any meeting despite it being reported and photographic evidence as proof. Mixed messages such as this are meat and drink to extremist elements that play to governmental weaknesses and inconsistencies.

Equally high on the list is the failure to construct a national counter-terrorism narrative that is owned both federally and provincially. The military can and does discharge its side of the compact fighting terrorism; the politicians have signally failed to deliver. We now have a benchmark document that will be the reference point far into the future when weighing the political rhetoric of counter-terror against ground realities. A job well done, Mr Justice Isa.

Published in The Express Tribune, December 18th, 2016.

Like Opinion & Editorial on Facebook, follow @ETOpEd on Twitter to receive all updates on all our daily pieces.
COMMENTS (1)
Comments are moderated and generally will be posted if they are on-topic and not abusive.
For more information, please see our Comments FAQ