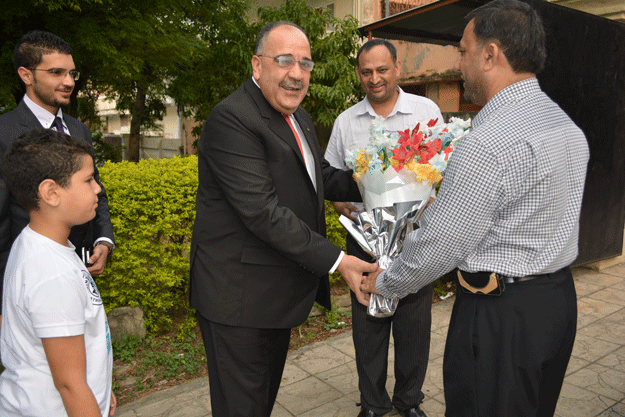 ---
Palestine's top diplomat in Islamabad on Tuesday said that a strong, united and peaceful Pakistan can play a key role in resolving longstanding disputes of Palestine and Kashmir.

Delivering a lecture on "Palestine: history, culture and international perspective", arranged by International Relations department of National University of Modern Languages (NUML) on Tuesday, Palestine's  Ambassador Walid Abu Ali said that a lack of leadership is the main reason for the prevailing situation in Muslim countries.

However, he suggested that if Pakistan got due backing from rich Islamic states, then issues of Kashmir and Palestine could be resolved in a matter of 'days'. He added that it was surprising that so-called Islamic terrorist organisations such as al Qaeda, Taliban, ISIS never tried to attack Israel.

Ambassador Ali further stated that Muslim countries around the world were not united and every country had their own priorities.

While referring to Organization of Islamic Countries (OIC), he said the world body for Muslims had become a joke. In this regard he referred to the 2014 missile attack on Gaza by Israel when it took five days for the OIC to condemn the attacks.

By contrast, he said the European Union (EU) was far more united.

"Muslims have one Allah, One Muhammad (PBUH) and one book (Holy Quran) but we are against each other, and this is a Zionist agenda to keep us apart."

NUML Registrar Brig (R) Aminullah Khan, Dean Sufiana Khatoon Malik, Head of Department International Relations Dr Maqsoodul Hassan Noori, faculty and students attended the lecture.

Published in The Express Tribune, December 14th, 2016.
COMMENTS
Comments are moderated and generally will be posted if they are on-topic and not abusive.
For more information, please see our Comments FAQ