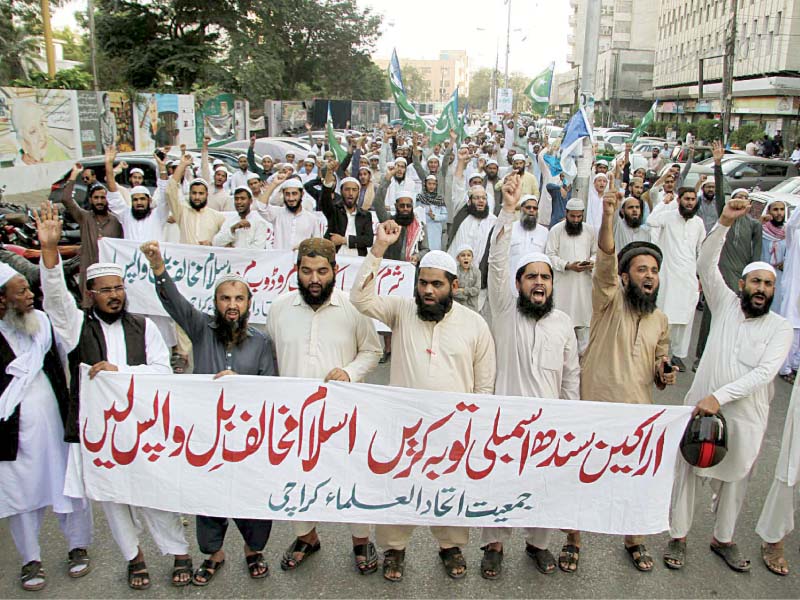 ---
KARACHI: Jamaat-e-Islami (JI) Pakistan deputy chief Asadullah Bhutto warned the Sindh government to revoke the 'anti-Islamic' Forced Conversion Bill. Otherwise, he said, they will go to Chief Minister House and Sindh Assembly in protest.

"The bill passed on the pretext of the rights of minorities was an attempt to please the foreign handlers of the government as well as the anti-Islamic elements," alleged Bhutto, adding that the bill is not only against the basic tenets of Islam but is in defiance of the Constitution of Pakistan.

The JI deputy chief was addressing a protest against the bill, held by Jamiat Ittehadul Ulema outside the Karachi Press Club on Tuesday. Protesters were carrying placards and banners against the provincial government and shouted slogans against the bill.

"Pakistan was established on the basis of Islam and the passing of this bill is [disloyalty] towards the martyrs of the Pakistan movement," he added.

The JI leader said that the conditions of at least 18 years of age for acceptance of Islam and then taking the person into custody at a shelter home for 21 days are 'absolutely rubbish and foolish'. He made it clear that the law will not be accepted.

JI Karachi chief Naeemur Rehman urged provincial legislators to record their protest against the bill if they have any ray of belief in Islam.

He said that the Constitution introduced by Pakistan Peoples Party founder Zulfikar Ali Bhutto ensures that no law against Islam will be made in the country. He added that unfortunately the party leaders have been defying the Constitution and hence betraying their own founder. "The bill was passed to gain political interests," he claimed.

Published in The Express Tribune, December 14th, 2016.
COMMENTS
Comments are moderated and generally will be posted if they are on-topic and not abusive.
For more information, please see our Comments FAQ