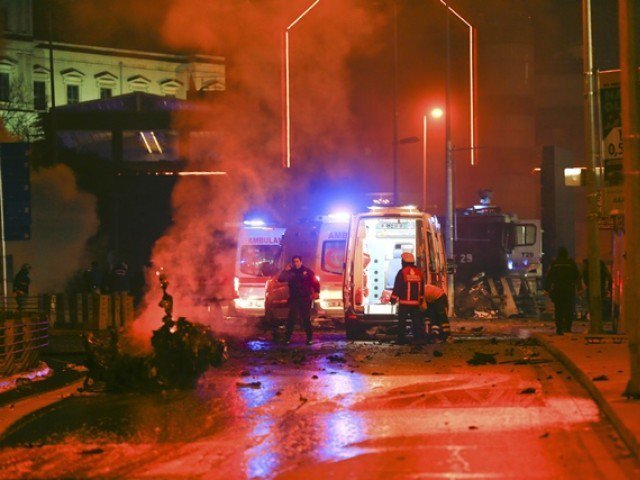 ---
ISTANBUL: A defiant President Recep Tayyip Erdogan on Sunday vowed to fight terror 'to the end' as a Kurdish militant group claimed twin attacks that ripped through Istanbul, killing 38 people, mostly police.

The bloodshed, which took place late on Saturday, saw a car bomb exploding outside the home stadium of football giants Besiktas and less than a minute later, a suicide attacker blew himself up by a group of police at a nearby park.

Most of the dead were police officers, who accounted for 30 of the victims. Seven civilians also died, along with one person whose identity was unclear, officials said. Around 150 people were wounded in the blasts.

The carnage prompted a sharp response from Erdogan, who vowed Ankara would "fight the scourge of terrorism right to the end".

"They should know that they will not get away with it ... They will pay a heavier price."

The attacks were claimed by the Kurdistan Freedom Falcons (TAK), which is seen as a radical offshoot of the outlawed Kurdistan Workers Party (PKK).




"A revenge squad from TAK carried out simultaneous attacks outside Istanbul Vodafone Arena stadium and Macka park at around 10:30 pm local time," said a statement posted on TAK's website.

"Turkish people are not the direct target of TAK," it said, accusing the government of 'fascism' against the Kurdish people.

In a ceremony for five of the victims at the city's police headquarters, Erdogan and Prime Minister Binali Yildirim met with the families, looking on silently as the flag-draped coffins were brought in.

"Sooner or later we will have our revenge," Interior Minister Suleyman Soylu told the mourners. "The arm of the law is long".

Thirteen people have been detained over the blasts.

Pakistan strongly condemned the terrorist attack and expressed solidarity with Turkey. "It is with deep sorrow and grief that we have learnt about the terrorist explosions in the Besiktas district of Istanbul in which reportedly precious lives," a press release of the Foreign Office said.

It said Pakistan condemned this heinous act of terrorism in the strongest possible terms. "Our thoughts and prayers are with all those who have lost their loved ones.  We extend our profound sympathies and condolences to the brotherly people and Government of Turkey. We also pray for the speedy recovery of those injured," it added.

Prime Minister Muhammad Nawaz Sharif and President Mamnoon Hussain also condemned the terrorist attack in Istanbul, Turkey and expressed deep grief and sorrow over the loss of precious lives of civilians and police.

German Chancellor Angela Merkel spoke with Erdogan by phone, with the two agreeing to step up anti-terror cooperation.

Published in The Express Tribune, December 12th, 2016.
COMMENTS
Comments are moderated and generally will be posted if they are on-topic and not abusive.
For more information, please see our Comments FAQ