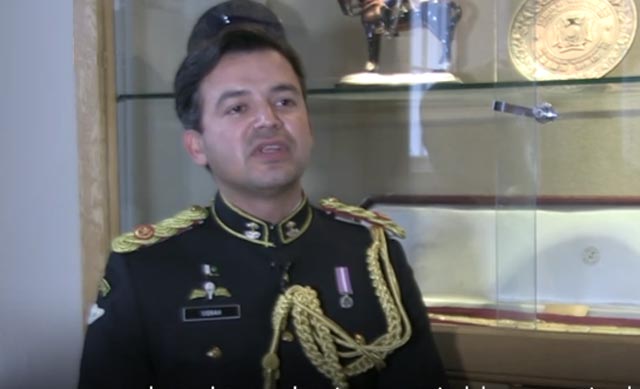 ---
A Pakistan Army officer, who graduated from the British Royal Military Academy at Sandhurst alongside Prince William, is the first Pakistani appointed by the institute to impart military training to its young cadets.

Major Uqbah Malik, who graduated from the RMAS in 2007, has returned after taking part in the army's military operation in Waziristan to wipe out terrorists and their strongholds from the region.

"When I graduated from Sandhurst in 2007 I reported back to my battalion the first Sindh Regiment in Waziristan," says Major Malik in an interview to the BBC Asian Network.

[/fbvideo]

Pakistan Army wins gold in Exercise Cambrian Patrol in UK

"When you're in the thick of the bullets and see your and your troops' life in danger then real leadership skill needs to come out... that's what I think I bring back with all the other British officers who go into Afghanistan and Iraq or other countries and have come back," he adds.

The officer, who is the first ever Pakistani to train the British Armed Forces, shares his experiences of fighting terrorism in the country's tribal territories in the federally administered tribal areas (Fata). "It is because of the successful counter insurgency in Fata," he says.

On the importance of partnering with Pakistan, RMAS officer Colonel Harty said: "Pakistan has faced some real challenges and these are challenges we have also grappled with throughout the years. We feel that there is great learning to be partnering with Pakistan both at the strategic level but also the more human lower level and bringing Major Uqbah into our team in order to achieve that."

Major Uqbah is the first Pakistani military officer to the duties as Platoon Commander in RMAS and won a Sword of Honour from the institution in 2007. He is also the first ever Muslim since British Army's inception in 1741 to have commanded and instructed a regular commissioning course.
COMMENTS (2)
Comments are moderated and generally will be posted if they are on-topic and not abusive.
For more information, please see our Comments FAQ