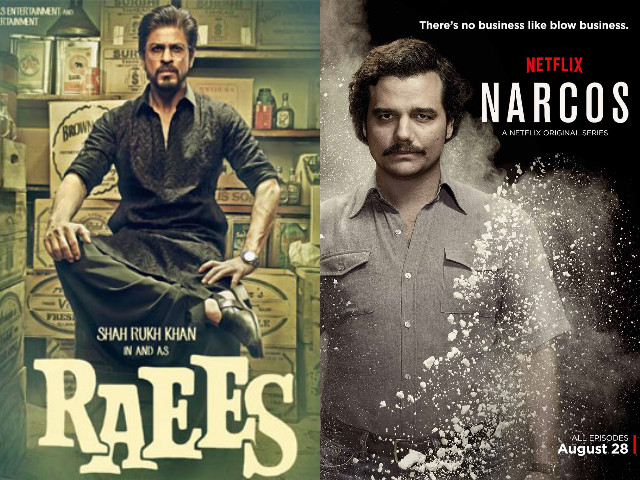 ---
The trailer of SRK, Mahira Khan starrer Raees was released last week and had genius written all over it.

The trailer which reportedly broke all records as it amassed 19 million views in three days has made the wait to the release of the film even harder.

If Raees wasn't enough on its own, someone decided to mashup the trailer of the much-awaited film with the recently-launched trailer of season 3 of America's favourite TV series, Narcos. Needless to say, the mashup is a must-watch.

Did Raees trailer break all records?

With accurate cuts and exciting effects, the mashup of Raees and Narcos will leave you mindblown. The fusion of Pablo Escobar's and SRK's villainous characters produced a hilarious outcome for all the right reasons.Created my Sumit Purohit, the mashup has gone viral and even secured SRK's stamp of approval.

SRK Tweeted the link to the video with the caption, "My favourite show done on Raees dialogues. I like."


https://t.co/GWaY0mmHf1 my favourite show done on Raees dialogues. I like.

— Shah Rukh Khan (@iamsrk) December 10, 2016


Here's how all Raees and Narcos fans reached to the mash-up:


Narcos is awesome show didn't know u watch it too 😍

— 💚🕊🖤 (@iPerfection01) December 10, 2016


https://twitter.com/InSRKsHEART/status/807525485030866944

https://twitter.com/omarazamii/status/807521857133916160


wonderful creation marvellous dubbing fantastic video

— NEHA DERE (@neha_dere) December 10, 2016
Have something to add to the story? Share it in the comments below. 
COMMENTS (1)
Comments are moderated and generally will be posted if they are on-topic and not abusive.
For more information, please see our Comments FAQ