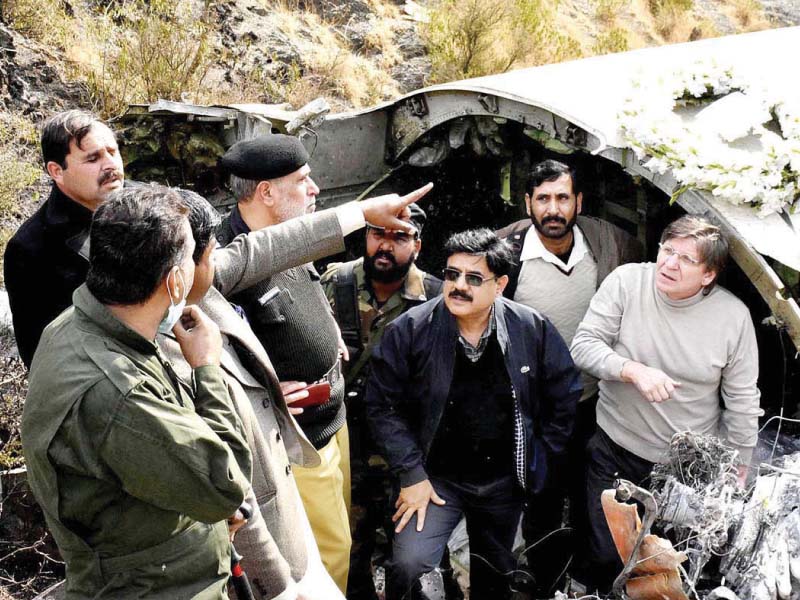 ---
ISLAMABAD: A team from the France-based ATR aircraft manufacturer may join Pakistani investigators in probing the cause of the Pakistan International Airlines (PIA) plane crash that killed all 47 people on board on December 7.

"The officials of the ATR have contacted PIA for assistance in the probe," said the PIA spokesperson Danyal Gilani on Saturday. In response to a question, he confirmed that soon after the tragic incident, the ATR company had contacted PIA, offering its help in the probe.

However, as the Safety and Investigation Board (SIB) is investigating the matter independently, the PIA referred the ATR to the SIB, which will decide when and whether to engage them. "The final decision in this regard will be taken by the SIB," he said.

PIA's flight PK-661 en route to Islamabad from the northern city of Chitral had crashed into a hillside near Abbottabad after one of its two turboprop engines failed and burst into flames.

Among those on board was Junaid Jamshed, a former singer-turned evangelist and DC Chitral Osama Warich. One Chinese and two Austrian citizens were also among the passengers.

The turboprop ATR aircraft is being operated in more than 100 countries by 200 airlines including India that has almost the same climatic and ground conditions.

PIA Chairman Azam Saigol at a news conference after the crash had said the nine-year-old plane was deemed to be 'technically sound' when it last underwent a detailed inspection in October.

On Saturday, PIA's Chief Executive Officer Bernd Hildenbrand visited Saddha Batolni village in the vicinity of Havelian, where the ATR 42 aircraft (AP-BHO) had crashed. He also laid a floral wreath at the site and observed one-minute silence in remembrance of the victims.

He also met the local people and thanked them for promptly helping in the rescue efforts, according to an official statement.

Hildenbrand also visited the Embassy of Austria, in addition to meeting the relatives of the Chinese citizen who lost his life in the incident and extended his heartfelt condolences.

Two Austrian citizens who were working for a hydro power plant in Chitral lost their lives and their families could not reach Islamabad due to visa and other government formalities and permission.

But the blood samples have been dispatched by courier to Pakistan for the identification of bodies. According to the employer of the Austrian citizens, samples for the DNA verification are expected to reach Islamabad on Monday.

Published in The Express Tribune, December 11th, 2016.
COMMENTS
Comments are moderated and generally will be posted if they are on-topic and not abusive.
For more information, please see our Comments FAQ