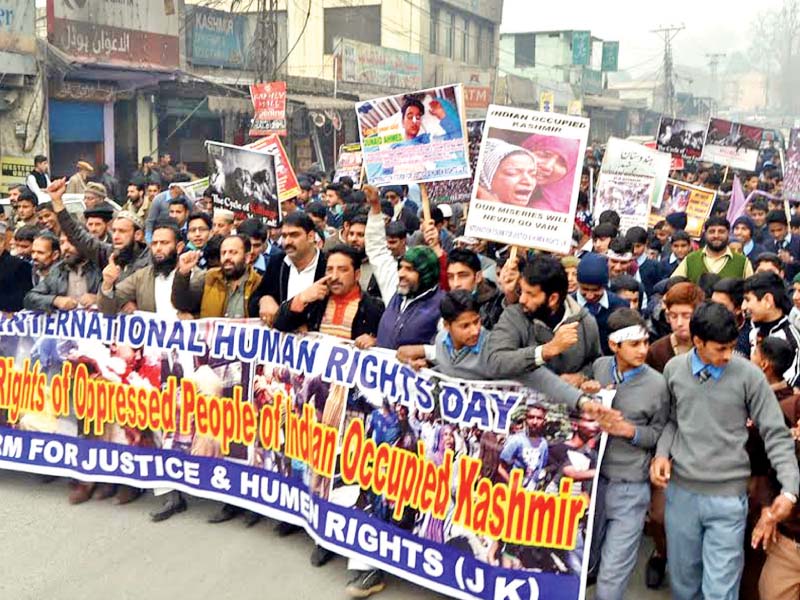 ---
MUZAFFARABAD: Hundreds of people marched through different parts of Azad Jammu and Kashmir on Saturday to condemn rising human rights violations in Indian Occupied Kashmir (IOK).

The protest had been organised by the International Forum for Justice and Human Rights (IFJHR) to mark International Human Rights Day.

Schoolchildren from different educational institutions along with women and Kashmiri refugees settled in Muzaffarabad participated in the protest.

The protesters marched from Central Press Club to Gharipan Chowk. They carried banners and placards inscribed with the slogans such as 'stop pellet guns in Kashmir' and 'stop custodial killings of innocent Kashmiris'.

The protesters also demanded freedom of movement for travelling to-and-from IOK.

IFJHR Chairman Nisar Ahmad Khan said that the world community should take notice of rising human rights violations in IOK, where the Indian military was trying to crush the legitimate struggle of Kashmiris. The protesters added that apart from violating human rights with impunity, the Indian forces had destroyed property and crops of Kashmiris.

They also protested against the ceasefire violations by Indian forces.

"From the Line of Control (LoC) to the Working Boundary, ceasefire violations by Indian forces are an attempt to divert world attention from the situation in IOK," Khan said.

He added that after killing Burhan Wani, India had gone on to kill over 100 innocent Kashmiris who were protesting for their basic rights.

"More than 15,000 Kashmiris have been injured by pellet guns," Khan said.

Pakistan Tehreek-e-Insaf (PTI)  parliamentary leader in Azad Jammu and Kashmir (AJK) assembly  Abdul Majid Khan said that on World Human Rights Day, Kashmiris across the Line of Control (LoC) appeal to the world community, European Union (EU) and human rights watchdogs to take the notice of excesses in IOK.

"Every day, Indian forces arrest innocent Kashmiris and then kill them in detention, which is the worst kind of human rights [violation] on the planet. The big world powers should take notice of Indian military's highhandedness against the freedom-loving Kashmiris," the PTI leader said.

In other parts of AJK rallies and protests were also taken out to condemn the Indian forces' human rights violations. Seminar and other functions were also organised to mark World Human Rights Day.

Published in The Express Tribune, December 11th, 2016.