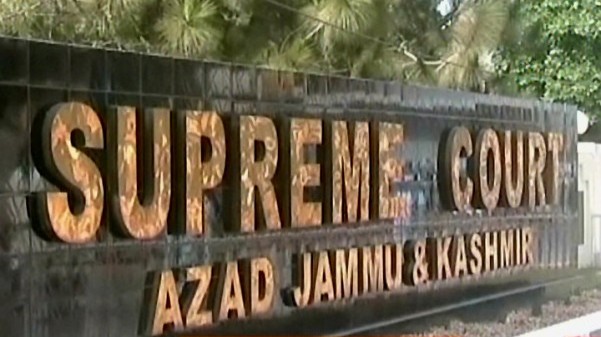 ---
MUZAFFARABAD: Justice Khwaja Shahad Ahmed was sworn in as the new acting chief justice of Azad Kashmir on Tuesday night in Islamabad, ending the ongoing tussle between the dysfunctional and acting chief justices of the region.

He was sworn in by Azad Kashmir President Raja Zulqarnain Khan. The move was the result of the advice of Pakistan's prime minister, who called for the appointment of a senior judge as the acting chief justice and forming a new Supreme Judicial Council for the hearing of two references filed by the prime minister and the president of Azad Kashmir against both the former judges. The Law Department on Tuesday delayed issuing the notification about the appointment of the new acting chief justice after Prime Minister Farooq Haider Khan urged the dysfunctional chief justice Raiz Akhtar Choudhary to resign.

As was expected, rival camps representing the region's prime minister and president agreed to the advice of the prime minister of Pakistan to appoint the senior-most judge of the apex court, Khwaja Shahad Ahmed in this case, in place of Syed Manzoor Hussian Gillani. Under powers conferred to him in Azad Kashmir's interim Constitution Act of 1974 as chairman of the Azad Jammu and Kashmir Council, approved the advices for the appointment of judges in superior judiciary.

The new judicial council headed by the new acting chief justice, will comprise an ad hoc Supreme Court judge, Justice Chaudhary Ibrahim Zia, and Chief Justice of the High Court Justice Mustafa Mughal.

Published in the Express Tribune, May 12th, 2010.