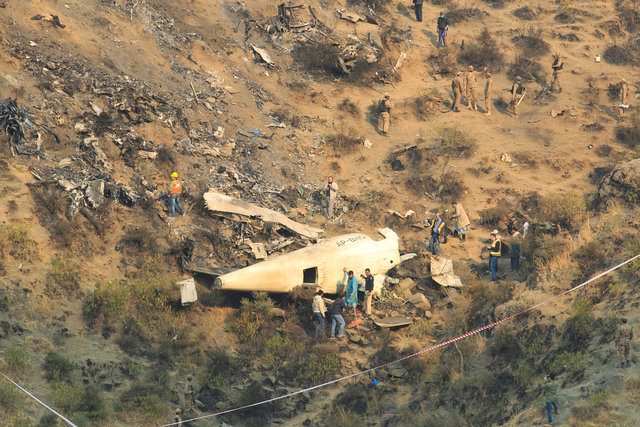 ---
VIENNA: Pakistan on Thursday mourned the 47 victims of its deadliest plane crash in four years, among them a famed-rockstar-turned-evangelist, two infants and three foreigners, as officials sought to pinpoint the cause of the disaster.

The two Austrians and a Chinese man who died in a plane crash in Pakistan worked for Austrian engineering group Andritz on a hydropower project in the north of the country, a spokesperson for the company said on Wednesday.

Flight PK-661: No survivors

None of the 47 passengers on the Pakistan International Airlines flight heading for Islamabad survived the plane's crash into a mountain in northern Pakistan.

Andritz, an Austrian blue chip company with around 25,500 employees worldwide, builds machinery and provides services for hydro-power plants and the steel and paper industry. The spokesperson added that the Chinese man had worked for Andritz's Chinese unit.

"Our compassion is with the families, whom we will give any support," he said.

Foreign tourists increasingly flock to Chitral every year, besides thousands of domestic visitors, as Pakistan emerges from years of violence caused by a Taliban insurgency. A member of Chitral's traditional royal family, his wife and family were among the dead, besides a Chitral administration official, Osama Ahmad Warraich, whose wife and infant daughter also died.

Islamabad-bound PIA aircraft crashes near Abbottabad, no survivors

Engine trouble was initially believed responsible, but many questions remain, stirring new worries about the safety record of money-losing state carrier Pakistani International Airlines.

The ATR-42 aircraft involved in the crash had undergone regular maintenance, including an "A-check" certification in October, airline chairman Muhammad Azam Saigol said. "I want to make it clear that it was a perfectly sound aircraft," Saigol said, ruling out technical or human error. The aircraft appeared to have suffered a failure in one of its two turboprop engines just before the crash, he said, but this would have to be confirmed by an investigation.

"I think there was no technical error or human error," he told a news conference late on Wednesday. "Obviously there will be a proper investigation."

Outpourings of grief erupted online soon after flight PK-661 smashed into the side of a mountain near the town of Havelian, in Khyber-Pakhtunkhwa, late on Wednesday afternoon, after taking off from the mountain resort of Chitral. It crashed just 50 km short of its destination, the international airport in Islamabad, the capital.

Profile: The enigma that was Junaid Jamshed

Safety concerns

The aircraft, made by French company ATR in 2007, had racked up 18,739 flight hours since joining PIA's fleet that year. Its captain, Saleh Janjua, had logged more than 12,000 flight hours over his career, the airline said.

Concerns are growing over air safety in Pakistan as media in recent years have reported near-misses following overshot runways, engines catching fire and landing gear deployment failures. In the worst such disaster, in 2010, all 152 people on board were killed when a passenger plane operated by airline Air Blue crashed in heavy rain near Islamabad. Two years later, all 127 aboard were killed when a plane operated by Bhoja Air crashed near Islamabad.
COMMENTS (3)
Comments are moderated and generally will be posted if they are on-topic and not abusive.
For more information, please see our Comments FAQ