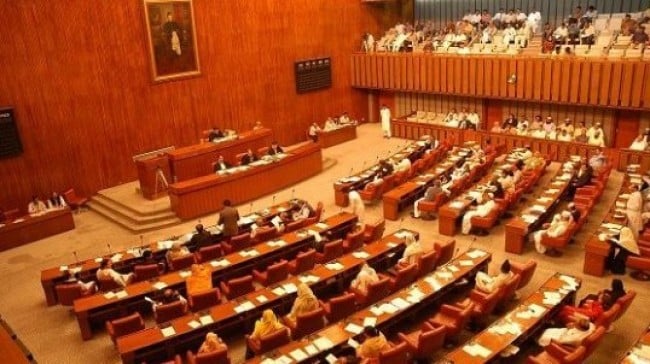 ---
ISLAMABAD: Senators from Sindh protested in Tuesday's session over what they called discrimination against the province in terms of allocation of jobs and funds.

In response to a question by JUI-F's Khalid Mehmood Soomro during question hour, Federal Minister for Science and Technology Azam Swati informed the house that 70 per cent of employees of his ministry belong to the Punjab. At this, Soomro lodged a strong protest, arguing that the quota for Punjab in the federal jobs is only supposed to be 50 per cent. He said Sindh had long been discriminated against in allocation of jobs and resources, a sentiment echoed by MQM Senator Tahir Mashahdi.

Swati assured the house he would make sure that the federal jobs quota was implemented in his ministry and all provinces get their due share of jobs. Another cause for protest was provided by Federal Health Minister Makhdoom Shahabuddin when he, in answer to a question by Senator Soomro, revealed that Jinnah Hospital in Karachi was being given less funds annually than the Pakistan Institute of Medical Sciences (PIMS) located in Islamabad.

PML-Q senator Kalsoom Parveen from Balochistan reacted angrily, holding up the relative population of both cities. The health minister promised to look into the issue and also assured the house that the executive director of PIMS had been appointed on. JUI-F senator Ismail Buledi from Balochistan had asked the government to provide the number of textile units in the provinces. The textile minister in his written reply informed the house there are a total of 461 textile units in the country of which 50 are composite units while 411 are spinning units.

He said 119 textile units are in Sindh, 309 in Punjab, 17 in Khyber Pakhtunkhwa, 10 in Balochistan and 6 in AJK. Senator Ilyas Bilour of ANP from Khyber Paktunkhwa said that all textile units located in his province have been shut down. And Senator Ismail Buledi said it was unfair to Balochistan that only 10 textile units are based there.

The wheat procurement situation also came under discussion. PPP senator Safdar Abbasi from Sindh said that middlemen are buying wheat from farmers at Rs. 800 per 40 kg and are selling it to the government at the official rate of 950 rupees per 40 kg. He also raised the issue of the lack of storage facility with the concerned government departments. Federal Minister for Food and Agriculture said that the government is in the process of building warehouses to store wheat and it has already signed contracts for storage capacity of 800,000 to 1 million tons.

He said procurement is a provincial matter and the federal government should not be dragged into it. He also informed the House that the current wheat crop of 23.86 million tons yield is more than the national requirement of 23.70 million tons. He said though the current crop is more than the national requirement, it is still less than the last year's yield of 24.03 million tons.

Published in the Express Tribune, May 12th, 2010.
COMMENTS (1)
Comments are moderated and generally will be posted if they are on-topic and not abusive.
For more information, please see our Comments FAQ