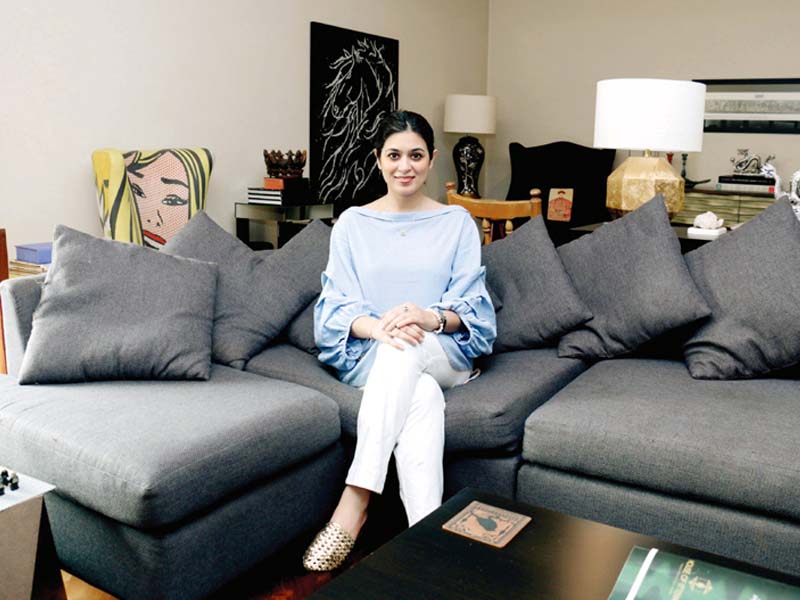 ---
Entrepreneur and writer, Khadija Malik welcomes us into her contemporary apartment

On a cold winter morning we make our way to a recently constructed posh apartment complex located in the heart of Lahore. Our host, Khadija Malik ushers us into her artistic space.




Inside the narrow entrance sits a contemporary, white Home Couture console. A Jamil Naqsh calligraphy painting hangs pretty behind it. The walls are white but beautiful pieces in striking colours are thoughtfully placed throughout the apartment, creating the perfect balance. The furnishings are neutral with shades of brown and grey throughout, interspersed with various metals and glass that create a cohesive atmosphere. Elements such as the Home Couture pop art armchair, a yellow side-table, shaded lamps from Studio9 and the quirky illustrated breakfast table from Craftyard make a striking statement.




"This is a small-contained space that has evolved overtime, as I started out with a completely blank canvas. I didn't really plan how it turned out, so the colours you find in my space are ones that I naturally favour. You will find that there are a lot of neutrals, along with some primary colours. Moreover I only buy something when I truly love it and somehow they all gel well together," our host explains while handing us a warm cup of coffee.

We admire the detailed mirrored coffee table from Home Couture that sits proudly on a monochrome Miaco rug. An antique, reupholstered love seat that has been with our host for 17 years adds a classic vibe to the space. Malik's two adorable sons have noticeably marked their territory in the lounge, with their Call of Duty video games and Lego figures. The art deco pieces stand out against the muted furniture; the pieces as we are told, have been collected over the years or have been gifted by Malik's mother.




Two life-size, framed prints from Karl Lagerfeld's book, The Little Black Jacket, dominate the main wall of the apartment. "Original prints of the book were available at the launch in Singapore. I instantly bought these two prints and I think my lounge would be incomplete without them, even though my kids find them really freaky," our host laughs. Malik dotingly directs our attention to the sculptures of her two sons, Abdullah and Omer, placed on a wooden console. "We got these made when we were in Los Angeles for a holiday. We had to stand in line for a long time, but it was worth it in the end. I protect these two sculptures with my life," she says while gazing at them lovingly.




We start inquiring about Malik's favourite piece in the corner, to which she answers: "I love each and every piece, but right now it will have to be the Farhan Manto chalk painting that I got recently. I think it makes the entire room pop and I enjoy looking at it immensely while I'm having dinner," Malik states.

For Malik, setting up her corner was all about surrounding her small family with meaningful things, and this she believes, contributes to their happiness. We leave in high spirits, touched by this cosy yet vibrant apartment full of warm memories, true love and the simple adventures of a family.
COMMENTS
Comments are moderated and generally will be posted if they are on-topic and not abusive.
For more information, please see our Comments FAQ