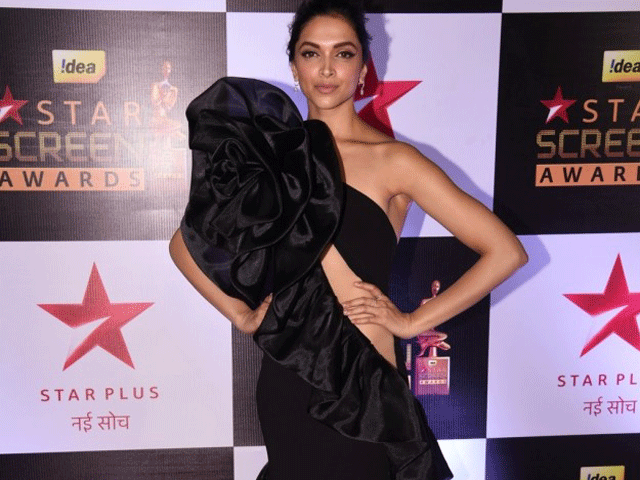 ---
Deepika Padukone, considered the epitome of style in Bollywood, graced the red carpet at the Star Screen Awards 2016 in a not so stylish dress.

After pictures of her in a black Gauri and Nainika gown surfaced on social media, they went viral for all the wrong reasons, with her stylist Shaleena Nathani bearing the brunt of it.

Ironically, the star who won a trophy for the Best Style Icon at the ceremony made a big fashion blunder with a distasteful rose on her gown. With the rose too large and the trail too long, fans are calling for Deepika's stylist to quit her job.

British, Indian media clash over Deepika's 'Bollywood blunder'at MTV Awards

Shaleena landed herself in hot water after she posted a picture of the actor flaunting her choice for Deepika on Instagram.

https://www.instagram.com/p/BNmZcfcBlvo/?taken-by=shaleenanathani

Deepika's look left her fans fuming as they bashed her on social media for her terrible style sense. Nathani made a fashion blunder, and Twitterati won't let her forget it.

Teaser of Deepika's Hollywood film alongside Vin Diesel is finally out

Some blamed her for ruining Deepika's beauty.

https://twitter.com/Adarsh68165058/status/805812048844165120


she is destroying deepika's beauty

— MAYSSOUDEEPVEER (@MISSOUVEER) December 4, 2016


https://twitter.com/Ariaa2000/status/805790810755231744

https://twitter.com/ranveersbabe/status/805434671609810944

https://twitter.com/Adarsh68165058/status/805812048844165120

Many livid fans said Nathani should be fired for her horrid fashion sense.


u need to be fire.

— Aiman DP (@Aiman_DP) December 4, 2016


Another fan urged Nathani to leave Deeps alone.


shaleena leave deepika alone ur the worst stylist ever u dont know anything about style what the hell is that dress

— sarah (@padukone6) December 4, 2016
why dont u leave dp alone for god sake.stop embrss her,u r dp biggest hater

— Cleo (@azzizat_lucy) December 4, 2016


Some questioned her choice of the ruffled black rose.

https://twitter.com/asra_shah/status/805593496048566272


why big black rose? Look at her face.She still looks most beautiful. But dress!Totally unfair. Deepika didn't desreve this.

— Mona (@DeepikaMonaa) December 4, 2016


A fan even wrote Nathani a letter, requesting her to do justice with Deepika's beauty.


Hi. It would be great if you could take some time out and read this. Thank you. :) pic.twitter.com/lyPCJvomVA

— Fat Cheeks 👑 (@ChotiDeepu) December 5, 2016


Another fan went too far, questioning her credibility as a friend.


wtf 😕😕😕😕😕😕😕 why you do that for her she is sutch Beautiful dont try on her pliz be her frend not her enemy 💔😕😭

— 🖤 (@LinaMimiw91) December 4, 2016


Were they too hard on the stylist?




What do you think?
Have something to add to the story? Share it in the comments below.