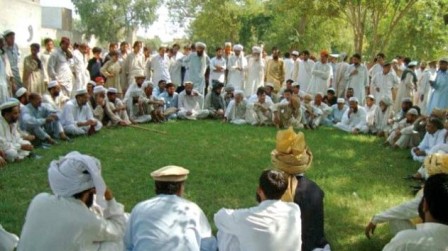 ---
LANDI KOTAL: A referendum should be held for a decision on the future of Fata, tribal elders agreed at a grand Jirga held at Baghe Naran here on Sunday.

"We will never accept the views of a few on the majority … We have always called for amending the existing law, the Frontier Crimes Regulation (FCR) and never its revocation," Malik Nasirullah said.

"Our people are still displaced because of the ongoing military operation … We urge the federal government to pay compensation to people who suffered as a result of the operations … The system should be changed with the consent of tribal elders and people," he said.

Criticising prime minister's adviser Sartaj Aziz for submitting "an unjust report" on Fata reforms, Malik Marjan said that if FCR was abolished, the Jirga system in Fata would come to an end.

Published in The Express Tribune, December 5th, 2016.
COMMENTS
Comments are moderated and generally will be posted if they are on-topic and not abusive.
For more information, please see our Comments FAQ