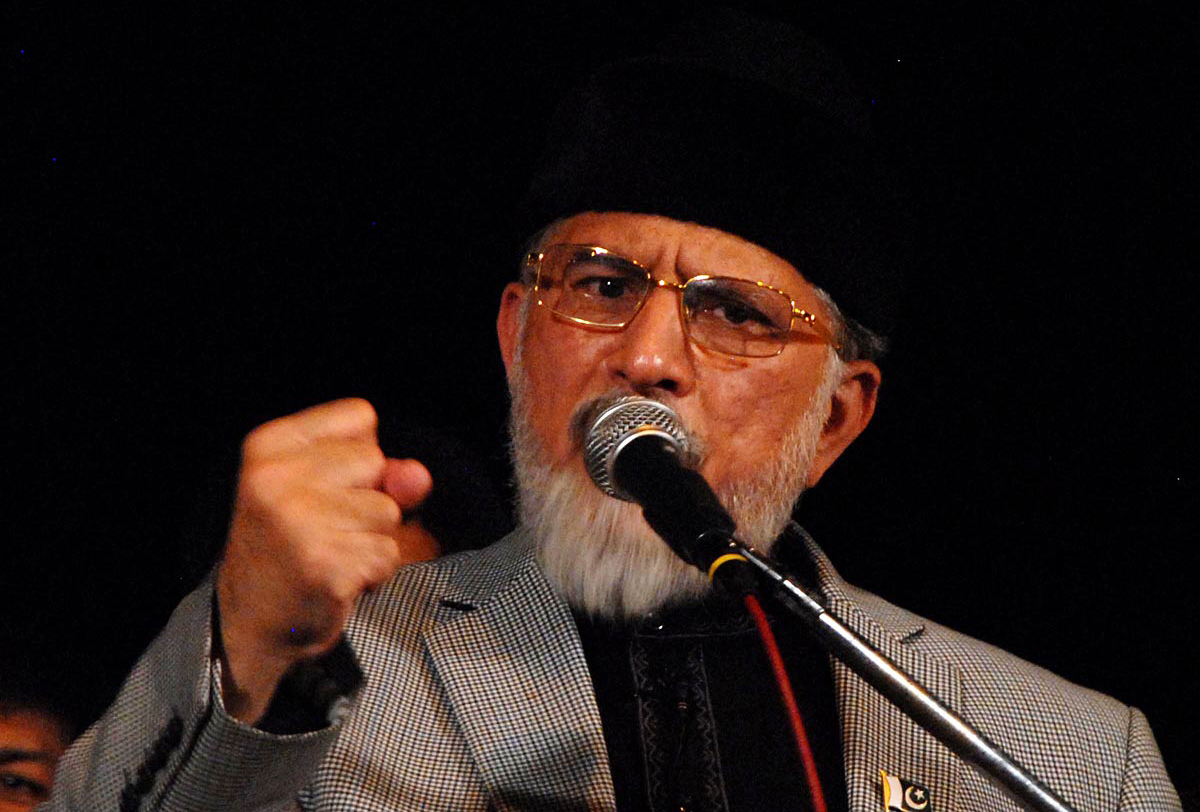 ---
KARACHI: Pakistan Awami Tehreek (PAT) chief Dr Tahirul Qadri sounded an alarm on Sunday when he contended that Pakistan was the next target of the Islamic State (IS).

"God forbid! After Syria and Iraq, the next target of ISIS is Pakistan," he said during a peace conference held at Nishtar Park here. "ISIS is gradually gaining a foothold in Pakistan … Its influence is also expanding," he said.

Tahirul Qadri asks army chief to provide justice

Mayor Karachi Wasim Akhtar and leader of Pak Sarzameen Party Wasim Aftab also attended the conference. Leaders of Sikh, Christian and Hindu communities were also in attendance. However, Pakistan Peoples Party's Syed Qaim Ali Shah, who was invited to attend the conference, did not show up.

According to Tahirul Qadri, ISIS has already launched terrorist activities in the country. Foreign elements, he said, did not want Pakistan to prosper and they were engaged in fanning extremism and unrest in the country.

Linking corruption and terrorism, he said that terrorists were tarnishing the good name of Islam and also exploiting the poor people of Pakistan.

He said that the doctrines of al Qaeda and ISIS were almost the same. "The mindset is the same, only the name has changed," he said.

"We have to eliminate the acceptance of terrorism," he said, adding that Pakistan Army and political forces had to rethink their strategy.

Citing Hadiths, he said that Prophet Muhammad (PBUH) had prophesised the rise of ISIS 1,400 years ago.

Why Islamic State has been unable to enter Pakistan?

Quoting another Hadith, he said that "followers of black flags will lay claim to the Islamic State".

"They will invite people towards Islam, but will not be followers of Islam themselves," he said. These people, he reminded, would appear from the deserts of Iraq and their slogan "will be to kill people".

"They will initiate a civil war in Syria, because of which Syrians will be compelled to migrate."

"We are being identified as wrongdoers, but are not ready to believe it," he said, adding that Pakistan's enemies had set their eyes on the country's nuclear assets.

Karachi's power

He said that one day, Karachi's rights would be restored and that was when the Sindh megapolis would start to prosper. "For how long can anyone deny Karachi's rights," he asked.

Meanwhile, Wasim Akhtar said that despite limited resources and grappling with a host of issues, the city would set aside maximum resources for celebrating the birthday of Prophet Muhammad (PBUH).

Addressing Akhtar and Aftab, Qadri said that although it was not possible for both the parties to share the same stage, but both were on stage out of love for the Prophet (PBUH).  If Karachi collapsed, Pakistan would collapse, he said.

Published in The Express Tribune, December 5th, 2016.

 
COMMENTS (3)
Comments are moderated and generally will be posted if they are on-topic and not abusive.
For more information, please see our Comments FAQ