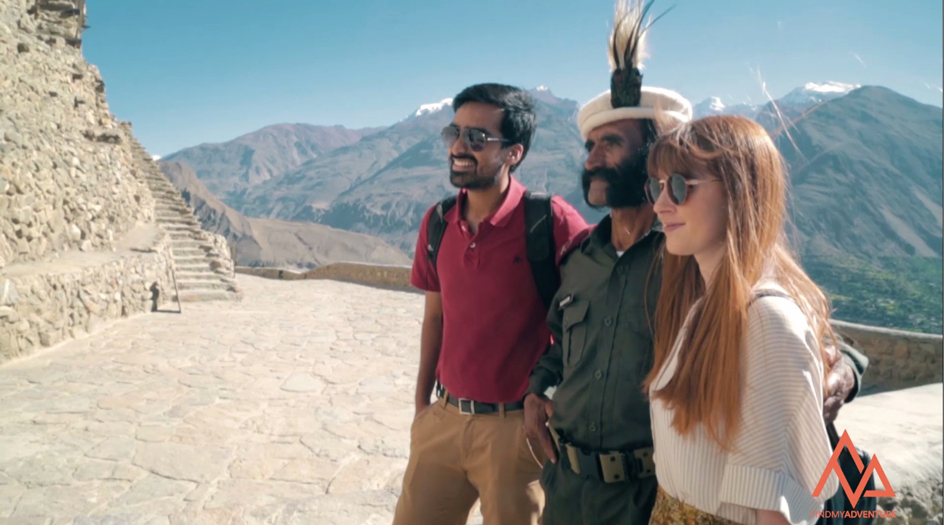 ---
For some, travelling is always a challenging task, especially in a country where the tourism industry has just started growing.

For those venturing out for the first time, finalising a myriad of things such as where to stay and what route to take simply prove arduous. While most high-end luxury hotels have online reservation facilities, many other establishments possess no credible online presence.

Although some tour operators and adventure clubs offer various trips, all of the outings and activities tend to be fixed, meaning tourists don't have much opportunity to have them customised. There's also no easy way to compare different packages available.

This is where online portal FindMyAdventure.pk helps aspiring holiday makers plan their trips in the easiest possible way.




We set out to speak to co-founder Syed Haider Raza to find out all about the website. "Incorporated as a travel and technology firm, FindMyAdventure is Pakistan's first online end-to-end tourism portal," he said while speaking to The Express Tribune. 

Founded by six young graduates, including Haider, Komail Naqvi, Khawaja Raza, Shozab Naqvi and Husnain Malik from LUMS along with Ali Yousuf of GIK, FindMyAdventure is Pakistan's first online marketplace for travel enthusiasts that allows you to search, compare, select and book trips across Pakistan via one simple web app.

From Germany to Layyah: Pakistani completes 10,000km journey on bicycle

"You can search locations, and tours. Check reviews, opinions and compare prices instantly to help decide where, when and how to go," Haider said.

How it works

It is fairly easy to plan a trip using FindMyAdventure. All you need to do is visit the portal and create an ID using your existing email address, or you can even login with your Facebook profile.

Once done, you can search for planned tours based on location or the activity you want to do. The website will show you several options to choose from, based on the availability.




You can also customise the search by applying different filters, including the duration or the date of your tour or even how much it will cost.

Alternatively, if you don't find a package suited to your needs, you can always plan your own trip using the portal's Make My Adventure feature.

Explaining how one can customise a tour to their own liking and requirements, Haider said, "Users have an option to use our Make My Adventure tool to plan and book a perfect trip."

How it all started

It all started when the startup's co-founders, fed up of 9 to 5 corporate 'slavery', decided to pursue a more adventurous path – a path they defined themselves.

"When we graduated from university, we landed roles as fast track MTs, managers at prominent multinationals, investment banking analysts and even CSS cleared aspiring bureaucrats," said Haider, adding, "However, we just could not come to terms with leading the 9 to 5 routine for the rest of our lives as we wanted to be part of something bigger; even if that meant running the risk of going down in flames."

From lush green meadows to lakes covered in snow

In just over four months of commencing operations, the team at FindMyAdventure has facilitated 750 unique travellers.

The fact that the portal, which went online on July 31, receives an average of 400 visitors daily shows the startup's potential. So far, FindMyAdventure has received over a million impressions on social media and over 21,000 likes on their Facebook page.




Explaining how FindMyAdventure is different from other tour operators and adventure clubs, Haider said that it is an online aggregator, which facilitates holidaymakers by listing vendors, as opposed to serving as one itself.

"We do not take people on trips ourselves, but supervise the operators registered with our portal, who then take our customers on tours," he added.

Empowering women to explore the country independently 

The startup caters to clients of all age, from teenagers and young adults to senior citizens, belonging to diverse economic and social backgrounds.

Surprisingly, the ratio of male to female travellers is fairly split. In a patriarchal society where women hesitate to even venture out alone, it is encouraging to see women exploring the world on their own.

"It is a welcome surprise to see an increasing number of women reaching out to travel through us in group tours and solo trips," Haider said.

Responding to why a traveller should acquire their services, he said, "We believe that our portal, a one stop solution for travel enthusiasts, has all the resources needed to search for, compare, book and execute a trip anywhere in Pakistan."




Talking about the safety mechanism put in place by the startup, Haider said a safety check is first conducted when a vendor is registered on the portal, including its previous service history.

Additionally, every time an operator receives business through their portal, they stay in touch with the operator to ensure that all facilities and services committed are provided to customers. Once travellers return from trips, their feedback enables the team to gauge whether they had a pleasant experience. Any problems faced are addressed by the company with the tour operator.

Future of tourism

With improved security across major metropolises and much of the rural countryside, the past few years have seen a fairly stable uptick in the tourism industry's prospects and one can expect good things for the industry in the upcoming years.

Five foreigners who took a chance on Pakistan

While technology has revolutionised the global tourism industry and there are myriads of apps and platforms operating on a global scale, it has not only upended conventional modes of tourism and hospitality but also changed the very nature of the industry itself.

Haider is of the view that there is still a long way to go before the domestic tourism market catches up to the whirlwind of innovation that has taken the industry by storm on a global level.

"Although vendors do use social media to market their products, they generally operate in silos with little interaction across the various sections of the industry. This is precisely the gap that FindMyAdventure.pk is looking to fill," he said, adding, "We are looking to homogenise the industry by serving as a one stop solution for the domestic tourism industry and bridging the information gaps that emerge when operators and vendors act independently without a unifying platform to collate and, subsequently, disseminate information and resources in aid of facilitating travel enthusiasts in Pakistan."

Responding to a question regarding their future plans, the co-founder said that the startup is currently working on its app and looking to cement its standing as the best portal before expanding.


COMMENTS (4)
Comments are moderated and generally will be posted if they are on-topic and not abusive.
For more information, please see our Comments FAQ