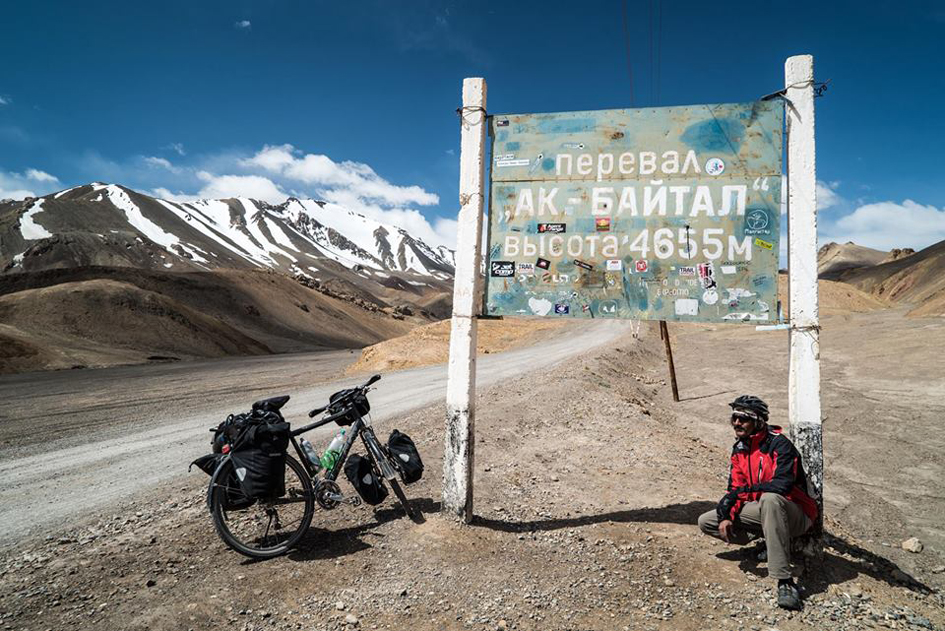 ---
It all started as a dream. A dream you may have had too when you were flying high on a passenger plane, wishing you could traverse the land thousands of metres below you.

"I was looking out from the window of the plane and thought how great it would be to visit all these places on a bicycle. To see them closely," says Kamran Ali recalling his first-ever flight experience.

While in the sky, all he could think of was being on the ground and on his bicycle. "Even when I was in Pakistan, I used to travel on a bike a lot. Sometimes I would go from Layyah to Multan, then Multan to Lahore."




It was that moment in 2002 when Ali, who hails from Layyah in Punjab, decided he would one day embark on a voyage to do just that.

At the time, Ali was on his way to Germany to pursue higher studies. He didn't realise how fast he would be sucked into the life of daily routines. When he finally answered his calling, it was 2011 and the journey didn't go as planned.




"I set off from Rostock [Germany] and in about two months I reached Sivas in Turkey after visiting Poland, Czech Republic, Austria, Slovakia, Hungary, Romania and Bulgaria," he recalls.




But his first attempt would be cut short by tragedy. "I had to abandon my trip when I got news from home that mother was seriously ill. I left everything and flew back to be with my mom."  Kamran's mother passed away shortly after he moved back to spend time with her.

"It took me four years to pick up where I had left off. To realise my unfulfilled dream."




In March 2015, Ali packed his bags once again. This time, it was longer and harder. It took him almost six months to reach Pakistan from Sivas in Turkey.

From Turkey, Ali departed for Iran where he took the old Silk Route to move through Turkmenistan, Uzbekistan, Tajikistan, Kyrgyzstan and China to finally reach Pakistan. It took him 176 days in total to complete his journey from Germany to Pakistan; 52 days in 2011 and 124 in 2015.




One of the biggest issues Ali faced throughout his travels was one that many Pakistani are quite familiar with: getting visas. "Visas for the Central Asian states were hardest to obtain," says Ali, adding how he only had to obtain visas for Turkey and Bulgaria only during his first leg since he had an EU visa back in 2011.

Kebab diet

When it came to food, Ali tried his best to eat at restaurants that just came along the way. "The best food experience was in Turkey," said Ali, who was genuinely amazed with the numerous varieties of the Kebab.




"The kebabs I can still taste are the ones I had in Dogubayazit near the Turkey-Iran border. There was another family-run restaurant in Bukhara, Uzbekistan, which makes amazing food."

A bicycle goes a long way

So did Ali also face the usual discrimination faced by travelling Pakistanis? Not at all. In fact, he found people being generous, friendly and extremely helpful. "Especially the Turks. They like Pakistanis a lot," Ali adds.




Another thing Ali had going for him was his bicycle. "If you're travelling on a bike you can't be seen as a bad person," he says, in an amusingly wise observation.

The other thing he learnt over his travels was to keep his story to himself. "I have a motto: just do what you are doing, and don't tell anyone."




"Most people who got curious about what I was doing never understood why I was travelling on my bicycle all the way to Pakistan. So, I just stopped sharing details of my whole journey."

"People didn't believe me when I told them where I was coming from. So, I started telling them that I'm travelling from Khujerab Pass to Layyah."

Travelling alone

While some people prefer travelling in pairs or with friends, Ali believes you should travel alone if you really wish to experience and explore the world.

"At times you do get lonely, but its fun to travel alone, you can stop where you want and for as long as you want. When you travel with someone you have to take his or her conveniences into consideration but you aren't bound when you are alone."




This isn't to say Ali didn't have moments where he wished a friend or family member was accompanying him during parts of his journey.

Recalling a life-threatening incident in Kaxgar (China), Ali said he had camped at the foot of a mountain when it started raining heavily and rocks stated falling on his camp from the top of the mountain.

"I was really scared. I was worried if die here, no one would even know about it," says Ali, adding he was forced to move his camp from there to a safer site.

But he still feels lone travelers are more welcome by locals. "It is more convenient for them to accommodate just one person."




Ali also believes that when you don't have a companion to talk to, you communicate and interact with locals more easily.

On why he didn't include Afghanistan in his journey, Kamran said, "It would have been too adventurous." Besides, he says he didn't want to miss the Khunjerab Pass.




Homecoming

Of the total distance of 10,400km that Ali cycled during his journey, the toughest came at the end.

His last stop was his homeland Pakistan, which he was overjoyed at entering. However, as much he loved Naran, Kaghan, he discovered that its beauty came at a price as he had to peddle to the elevation of 4,173m to get to the Babusar Pass before reaching Naran.

It was all breezy and cool till he reached Balakot. "It was too hot from there on. I was about to collapse when I reached Islamabad from Abbottabad." And the journey was still far from over.

"I peddled over 200km from Mianwali to Layyah in just one day, that even in the scorching heat of August."

On August 8, Ali finally arrived home.




Financing

According to Ali, he spent 5,500 euros or roughly around Rs600,000, on the road, mostly for food and accommodation. This is besides the expenses incurred on equipment, including bikes, GPS device and so on.

"During the first leg of my journey in 2011, I used a recumbent bicycle. But when I resumed my journey from Sivas this year, I opted for Stevens X8 Lite 2012 cross bicycle," he says.

The rugged terrains of Pamir Corridor took its toll on the bike, forcing Kamran to get the rear wheel of his bike straightened.

Amazingly, Kamran's bike never got punctured throughout his long journey – that is, until he entered Pakistan. His tires flattened three times in Pakistan.

Journey never ends

For a travel bug like Ali, the journey never ends.

Before departing for Germany again, he hinted at the possibility of seeing him on his bike very soon again.

He is currently in talks with the makers of Stevens X8, who have expressed their willingness to provide him a new bike for his next adventure.



*PHOTOS AND VIDEOS PROVIDED BY KAMRAN ALI