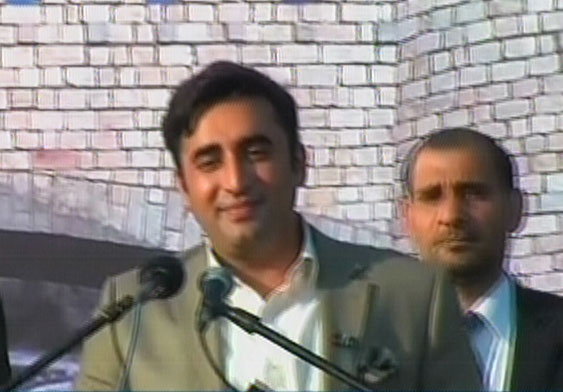 ---
Pakistan Peoples Party (PPP) chairman Bilawal Bhutto has said that he will become the country's prime minister in 2018, with party flags waving on all state buildings if the government does not accept four of the party's demands.

"If all of the party's divisions in the provinces fight in unison, then CM Houses in all provinces as well as PM House will have PPP's flag waving on them," the PPP chairman remarked during an address in Peshawar.

The PPP wants the enactment of the Panama Papers Inquiries Bill, 2016, implementation on the all parties conference's recommendations pertaining to the China-Pakistan Economic Corridor, a parliamentary committee for oversight of the National Action Plan and appointment of a foreign minister.

Bilawal terms NAP as 'N-League Action Plan'

"If the premier does not accept our demands and replace Interior Minister Chaudhry Nisar with a competent minister, we will call for a massive campaign which will result in a change of government," Bilawal said.

Bilawal also announced his decision to contest elections from the National Assembly constituency 207 in the party's stronghold of Larkana.

"If the premier does not accept our four demands, then I am ready to do that," Bilawal said before adding, "If he [Nawaz Sharif] is not ready to act as the premier despite taking three turns, then myself who is only 28 will become this country's Prime Minister in 2018 with your support."

Bilawal claimed that the party had become stronger across the country, including Khyber Pakhtunkhwa. "K-P is plunging into a tsunami of terrorism," he said as he took a jibe at Pakistan Tehreek-e-Insaf (PTI) government in the province.

PPP chairman reiterated that the party could turn its demands of "Go Nisar Go" into "Go Nawaz Go" by December 27 if the government does not respond positively to their demands.

What's the plan? Bilawal flays PML-N's 'failed' National Action Plan

On Friday, Bilawal claimed that the National Action Plan (NAP) had turned into "Noon League [PML-N] Action Plan", suggesting the federal government had failed in implementing the national security strategy.

During an address to party workers at Bilawal House in Peshawar, the PPP chairman chanted the slogans of "Go Nisar Go" with his party workers, and said: "The Go Nisar Go slogan is now emerging from Takht-e-Lahore."

The party chairman had earlier this month warned the government that if it failed to accept the PPP's demands regarding Panamagate, protests, sit-ins and a long march will be carried out.