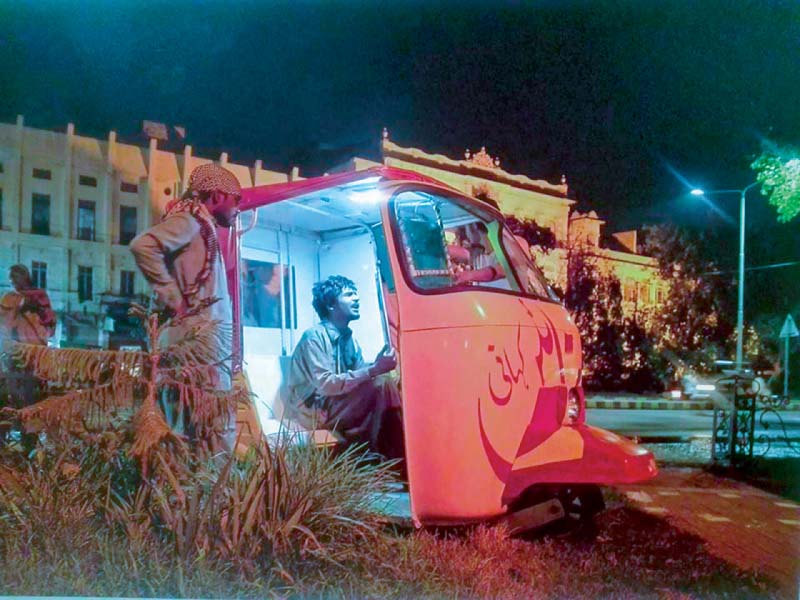 ---
LAHORE: An audio visual storytelling project called Stories We Tell - Ao Sunayen Kahaani was inaugurated at the Alhamra Art Gallery on Friday.

Aimed at creating an open space for everyone to speak out and make the process of story sharing more inclusive, the project was exhibited as a part of the four-day City in Context symposium.

The audio visual project was carried out by the School of Visual Art and Design at Beaconhouse National University in collaboration with Lahore Biennale Foundation University and Centre for Culture and Development.

Project director and curator Rashid Rana said twelve storytelling booths shaped like rickshaws were placed around the city for several months. The purpose was to record and disseminate stories and conversations.

People listened to a story or monologue on the interactive recording screen in the storytelling booth and recorded their own response.

Rashid said a defining monthly theme, encapsulating a particular aspect of Lahore's everyday life, was used as a trigger narrative for discussion and conservation sessions.

He added sessions titled 'artSPEAK' were also arranged to focus on themes emerging from the project, inviting academics and thinkers to contribute to a disussion.

He maintained, "With public spaces becoming more and more stratified and co-opted by specific classes, interaction between classes has become minimal and most of it happens in a space where the power and class dynamics dictate."

The project director said the initiative would not end there as a website, featuring recorded conversations from the project, will operate for the next two years.

According to one of the team members, Komal Naz, at least 8,000 recorded conversations were categorised and tagged into sixteen emergent themes by the team's video content specialist. "Out of these, 100 interesting narratives were later shortlisted," she said.

"If we see closely, we wuill realise that each story is connected to someone else's story and we become a part of hundred other stories while living our own. These 100 stories are not just stories of 100 people, but they are a reflection of thousands who are interlinked through them," Naz added.

Another team member, Rabiya Jalil, said the eight month project was a way to revive the historic, regional and indigenous form of storytelling as a method for exchange of ideas.

She said themes and topics that emerged as a result of these conversations were based on gender, language, religion, prejudice, food, festivals, education, literature and films. Jalil said the data gave way to an understanding of how people responded to a virtual or hyper reality, while making connections with digital interface.

According to Jalil, Stories We Tell - Ao Sunayen Kahaani not only facilitated interaction across communities, it also highlighted the importance of asking the right kind of questions to shape learning, to develop meaningful narratives and to revive orthodox structures of knowledge creation.

Published in The Express Tribune, December 3rd, 2016.
COMMENTS
Comments are moderated and generally will be posted if they are on-topic and not abusive.
For more information, please see our Comments FAQ