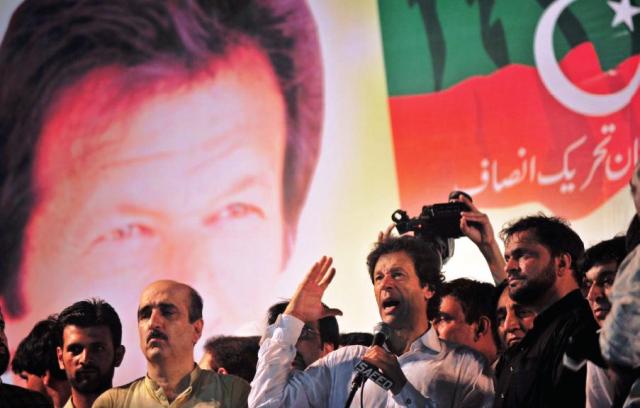 ---
ISLAMABAD: Pakistan Tehreek-e-Insaf (PTI) Chairman Imran Khan has said Prime Minister Nawaz Sharif's conversation with US President-elect Donald Trump cannot save him from the Panama Papers scandal.

"Even a letter from Donald Trump cannot save Sharif from accountability now", Khan said while addressing a news conference outside his residence in Bani Gala on Thursday.

Khan was referring to Sharif's telephonic conversation with Trump on Wednesday. He said while it was good news that Trump had spoken to Sharif, the conversation will do no favour to the prime minister.

In a taunting reference to a letter by a Qatari Prince, the PTI chairman said Sharif could not be saved from the Panama Papers scandal "even if a Trump letter arrived".




Khan said the letter is 'evidence' enough to disqualify Prime Minister Nawaz Sharif under Article 62 of the Constitution.

"[The] content of the letter related to money trail proves untrue a couple of statements given by the prime minister on the floor of the National Assembly and during a televised address to the nation."

The apex court dissected the Qatari prince's letter story inside out and till date they had no money trail to prove their Mayfair properties, Khan observed.

If, the PTI chairman said, he [Nawaz] were innocent, he just required simple documentary evidence to prove his innocence like former British prime minister David Cameron did.

"But, here it has been lie after lie and story after story, and lies kept piling up," Khan said while giving a reference to a new unregistered trust deed that he termed a 'fake document' submitted by the Sharif family's counsel in the last hearing on November 30.

"There are glaring differences between the trust deed the Sharif family had submitted earlier and the one submitted yesterday," he said, adding "Nation was waiting to see what new lie and fake document(s) the family would submit in the next hearing on November 6.

Khan said every Pakistani was convinced about the fraudulent tactics that the Sharif family had been adopting to prove them innocent.

"They don't want to collect tax because they don't want to pay tax themselves. Their lifestyles and their travel are so much more than the incomes that they show; so where does the money come from? From tax evasion and stealing the money of the people of Pakistan?"

The PTI chairman said Sharif says he lives in his mother's house in Raiwind. "How did their mother buy this property worth millions of rupees in Raiwind?" Khan questioned, adding the money had been taken out of Pakistan and belongs to Pakistanis.

He said it was a decisive moment for Pakistan as Sharif's accountability would open the gates to hold all those accountable who had been looting the nation.

Published in The Express Tribune, December 2nd, 2016.