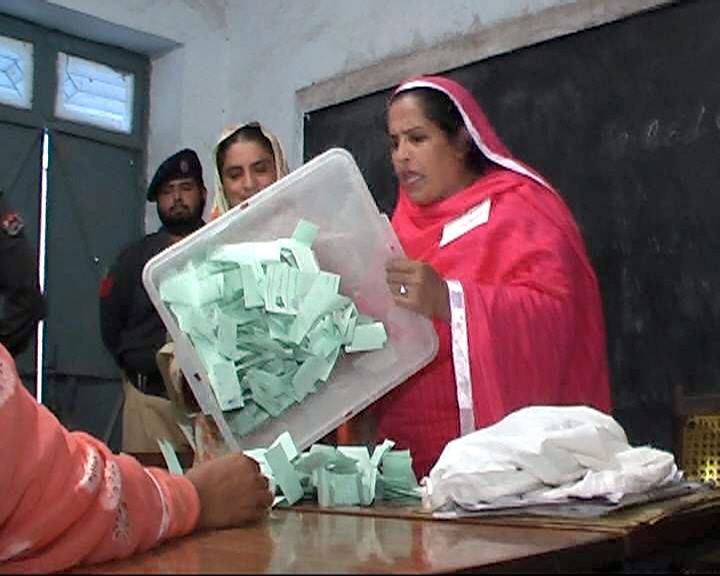 ---
FAISALABAD: Independent candidate Maulana Masroor Nawaz Jhangvi, the son of the founder of Sipah-e-Sahaba Pakistan Haq Nawaz Jhanghvi, won the PP-78 Jhang by-election on Thursday, defeating his PML-N rival candidate Haji Azad Nasir Ansari by a margin of close to 13,000 votes

According to unofficial results, Maulana Jhangvi got 48, 563 votes while the PML- N candidate, Haji Nasir, secured 35, 669 votes. PPP's Sarfraz Rabbani managed to bag 3,832 votes while and Sheikh Arfa Majeed received 2,800 votes.

Rangers and Army personnel supervised the polling and the process was completed without any disturbance.

This seat had fallen vacant after a Supreme Court decision that disqualified PML-N's Rashida Yaqoob for concealing assets.

Yaqoob was elected in the 2013 general elections and the runner-up Maulana Muhammad Ahmad Saeed Ludhianvi, the chief of the banned Ahle Sunnat Wal Jamaat (ASWJ), challenged her election.

On November 11, a two-judge bench of the Lahore High Court restrained both Rashida Yaqoob and Maulana Akram from contesting the by-poll.

Mr Ahamd Saeed Ludhianvi challenged the decision before the full bench of the LHC, contending that he did not know about the FIRs registered against him when he had filed nomination papers.

Although the full bench of the LHC on November 29 (Monday) allowed Maulana Mohammed Ahmad Ludhianvi, the chief of the banned ASWJ, to contest the by-election yet he opted to continue support of Independent candidate Maulana Masroor Jhangvi.

Published in The Express Tribune, December 2nd, 2016.
COMMENTS
Comments are moderated and generally will be posted if they are on-topic and not abusive.
For more information, please see our Comments FAQ