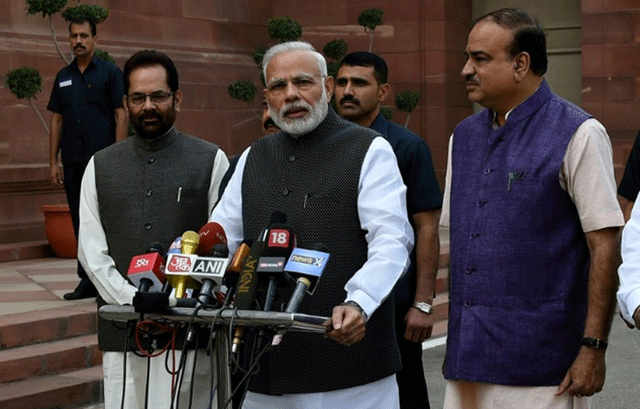 ---
NEW DELHI: Indian Prime Minister Narendra Modi hit back Friday at the mounting criticism of his decision to withdraw all high denomination bank notes from circulation, describing the move as "for the larger social good".

The November 8 move to ban the 500 and 1,000 rupees notes (some 85 per cent of all bills in circulation) as legal tender has sparked turmoil in the vast cash reliant nation.

India's water will not be allowed to go to Pakistan: Modi

Long queues have formed outside banks across the country as people try to get rid of their old notes, and the government has repeatedly changed rules surrounding the exchange process in response to pressure from various groups and mounting chaos.

"The decision isn't being criticised much (by the common man)," Modi said in a speech Friday, in which he praised citizens as "soldiers in this fight against corruption and black (unaccounted) money".

"Some things have to be done above politics for the larger social good," he added.

Critics of the move have included former prime minister Manmohan Singh, whose economic reforms are credited with rescuing India from the brink of bankruptcy in the early 1990s, said that the decision could shave two percentage points from the country's GDP.

Ratings agency Fitch has also said it would revise down India growth forecasts for the fourth quarter of 2016 after the shock move.

Others have slammed the government for its "shoddy implementation" of the scheme.

Against India's aggression: Legal eagles urge govt to highlight Kashmir cause

But Modi hit out at his rivals, saying those criticising his decision were doing so because they were "sad that they didn't get any notice, a chance to prepare for the decision".

"It is such a great step. A big, big decision. And, for those who dream of a great future for the country, let's come together to remove the problems being faced by the common man," he added.

In weeks since the decision, people nationwide have complained of a cash crunch, with rural farming areas, where local banks and post offices have been slow to receive new notes, the hardest hit.

Modi also urged Indians to switch to non-cash methods of spending.

"Every person has a right to spend his or her money. No one can take anyone's money. Now people can also spend through mobile technology," he said, mentioning that the country had around a billion mobile handsets and 60 percent of its population was under 35 years.

Modi's move is an attempt to encourage more people into formal banking, which will also increase taxable income in a country where only around 3 per cent of Indians pay any income tax.
COMMENTS
Comments are moderated and generally will be posted if they are on-topic and not abusive.
For more information, please see our Comments FAQ