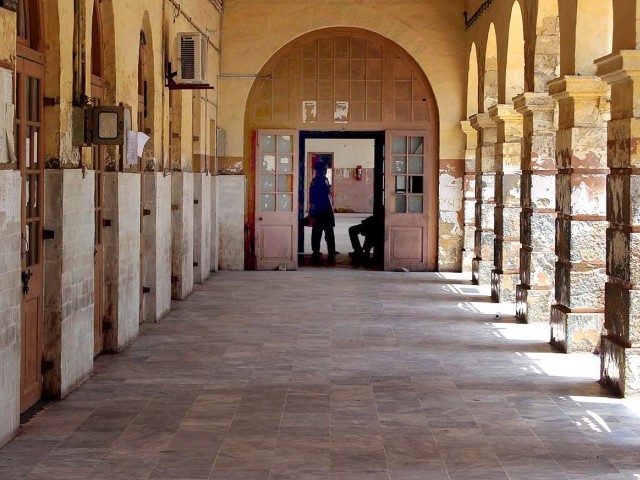 ---
LAHORE: A group of lawyers locked the entrance and exit gates of the district and sessions court for over four hours on Thursday to protest registration of a criminal case against their colleagues who had earlier tortured a police official.

The lawyers did not even allow judges, litigants and staffers to enter the premises and halted judicial work for several hours.

On November 19, a group of lawyers led by advocates Ramzan Sindhu and Usman tortured an assistant sub inspector (ASI) of the Punjab police, Muhammad Iqbal.

The ASI was at the sessions court to submit before the court of Additional District and Sessions Judge Ashfaque Ahmad record of a theft case registered by Sindhu.

The ASI informed the court that the case registered by Sindhu was fake and fabricated.

This turned the lawyer and his fellows furious. Subsequently, they caught the ASI when he was leaving the courtroom, thrashing him on the floor of sessions court's corridor. They even tore his uniform apart.

The ASI then registered the case at Islampura police station, mentioning the names of Sindhu and Usman. The ASI reported Sindhu had got a "fake" case of car theft registered with the police station. He stated in the report that lawyers got infuriated when the he submitted an "adverse" report of the case.

Later, a criminal case was registered against Sindhu, Usman and other lawyers at the said police.

The registration of FIR further enraged the said group of lawyers, who in turn locked both the gates of the sessions court.

The lawyers did not allow anyone to enter the premises, not even leaving judges and their fellow lawyers.

The Lahore capital city police officer and later the district and sessions judge also reached the spot. They pacified the protesting lawyers by announcing formation of a committee, comprising nine members. Three members each will be from the police, from among judges and lawyers. It was announced the committee will look into the matter in seven days and will fix the responsibility.

After this announcement the protesting group dispersed.

Published in The Express Tribune, November 25th, 2016.
COMMENTS (1)
Comments are moderated and generally will be posted if they are on-topic and not abusive.
For more information, please see our Comments FAQ