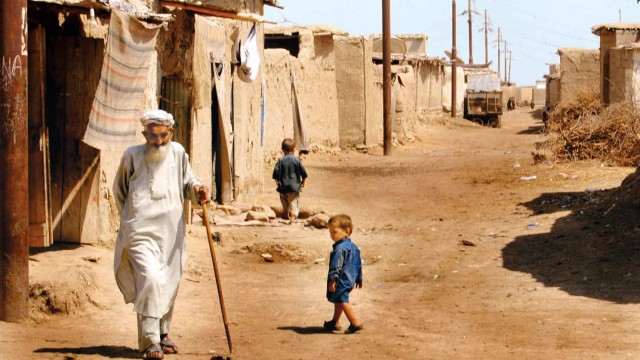 ---
KARACHI: The Afghan refugee camp on the outskirts of Karachi is a dust-coloured maze.

As the summer sun beats down on the narrow dirt lanes lined with small, uniform homes the ghost town shows tentative signs of life. Afghan children play in alleys. Bearded men talk in hushed tones near road-side stalls. Women are nowhere to be seen. The refugee camp may look lifeless to an outsider but most residents say it is a sanctuary they have grown to cherish. It is their home, a term that they continue to struggle to define decades after living in this country.

The task is harder for the first-generation immigrants like Ugulkhal who continue to be haunted by memories of the past. Surrounded by a troupe of grandchildren competing for her attention, she reminisces about her youth in Kunduz. "The seasons, the scent of the flowers even the air felt different in Afghanistan," she says. "I want to go back and so does my husband but we simply cannot afford it." Most families in the area live hand to mouth and have no savings for a trip to Afghanistan which can cost up to Rs50,000 - twice their average monthly budget.

But cost is not the only stumbling block. Ugulkhal also feels a bitter sense of resentment towards the war that has forced her out of her country, a war she fears is never going to truly end. Unlike her mother, 15 year old step-daughter Shazia is brimming with optimism. She is unafraid of Afghanistan's war-ridden image but still has no desire to live there. Wrapped in a sparkling indigo dupatta, Shazia explains her unofficial dual nationality with mature confidence: "I was born in Pakistan and have grown up here.

My entire family is here. Part of me wants to visit Afghanistan and see what it is really like but that is all." Imran, whose family immigrated to Pakistan thirty years ago, feels the same. He says the disagreement between generations is extremely common. "The elders in my family want to return to Afghanistan where they were born. While we, the younger generation, want to stay and continue building the lives that we have started here."

He is worried however, that the decision of who stays and who goes is no longer up to them.The Pakistan government has allowed Afghan refugees to stay in the country until 2012. Discussing the timeline over cups of kahva and home-made kababs, Imran says all he wants is to be is accepted as a productive member of Pakistani society. "I feel like I am on trial. Wherever I go the police harangue me," he says. Unfortunately, in a society rife with institutional discrimination, opportunities for Afghan men are limited and many do end up being pushed towards crime.

This tension between the reluctant social system and post-war immigrants is less likely to impact women like Amina, who has never left the vicinity of the camp. She rarely leaves the five square foot room she shares with four other women. "It is not the Afghan way," she says, shyly admitting that she has never seen the seaside or bought her own clothes. Despite this restricted life Amina has a quiet strength about her. She says she too prefers life in Karachi to Afghanistan.

"My children will have opportunities here. What is Afghanistan? It is war, it is Taliban, it is Americans in a big desert," she says, her blue eyes glowing with determination. But many in Karachi say the Afghan community is not welcome. One reason for the wariness some feel is the Afghan failure to fully assimilate to what they consider the Pakistani 'way of life'. For Abdul, a second-generation immigrant who lives at the camp, the question of identity is clear.

He points out that Afghans who went to Canada or the United States thirty years ago have now been accepted as citizens but residents of the camp are still waiting for basic amenities such as a gas or water connection. "Those who are here are people with nowhere else to go," he says in resignation. "We are not being treated like Pakistanis."

Published in the Express Tribune, May 12th, 2010.
COMMENTS (5)
Comments are moderated and generally will be posted if they are on-topic and not abusive.
For more information, please see our Comments FAQ