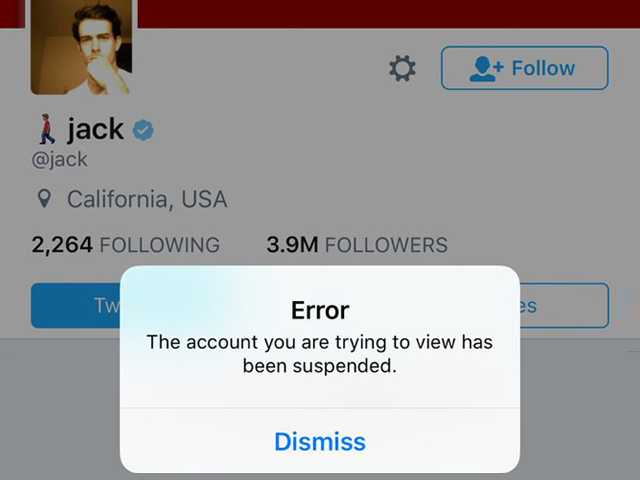 ---
It seems like Twitter is following in Facebook's footsteps in terms of hoaxes related to their bosses. The Twitter account of Jack Dorsey, the social network's CEO and co-founder, was briefly suspended Tuesday night because of what he called "an internal mistake."


just setting up my twttr…again (account suspension was an internal mistake)

— jack (@jack) November 23, 2016


"Just setting up my twttr...again (account suspension was an internal mistake)," Dorsey tweeted late Tuesday.

Twitter rolls out tool to curb online abuse, bullying

For about 15 minutes those trying to access Dorsey's account received a message stating that the account was suspended.

HAHAHA @Jack Dorsey got suspended from his own platform 😂😂😂

MEME MAGIC IS REAL FOLKS 🚨 pic.twitter.com/vCb4Lbwuno

— Baked Alaska™ (@bakedalaska) November 23, 2016

Only the company can suspend Twitter accounts, though users can deactivate their own. The company did not respond to an AFP inquiry.

Interestingly, @jack now has only 3.33 million followers instead of 3.9 million he had prior to the temporary suspension. It's unclear how a profile can lose close to half a million followers over an internal error.

The incident came as Twitter is struggling to increase its user base and seeking a path to profitability.

Earlier this month, Facebook accidentally declared its founder Mark Zuckerberg and many other users dead. They acknowledged their mistake of committing a "terrible error."




"For a brief period, a message meant for memorialized profiles was mistakenly posted to other accounts," a Facebook spokesperson told AFP.

Zuckerberg among Facebook users mistakenly declared 'dead'

Apart from Mark, Facebook declared a number of users dead.

Facebook thinks I'm dead. (Cash donations in lieu of memorial flowers please, folks, if you don't mind ;) ) pic.twitter.com/w4ykkVLuA4

— Cath Bore (@cathbore) November 11, 2016
Have something to add to this story? Share it in the comments section below.