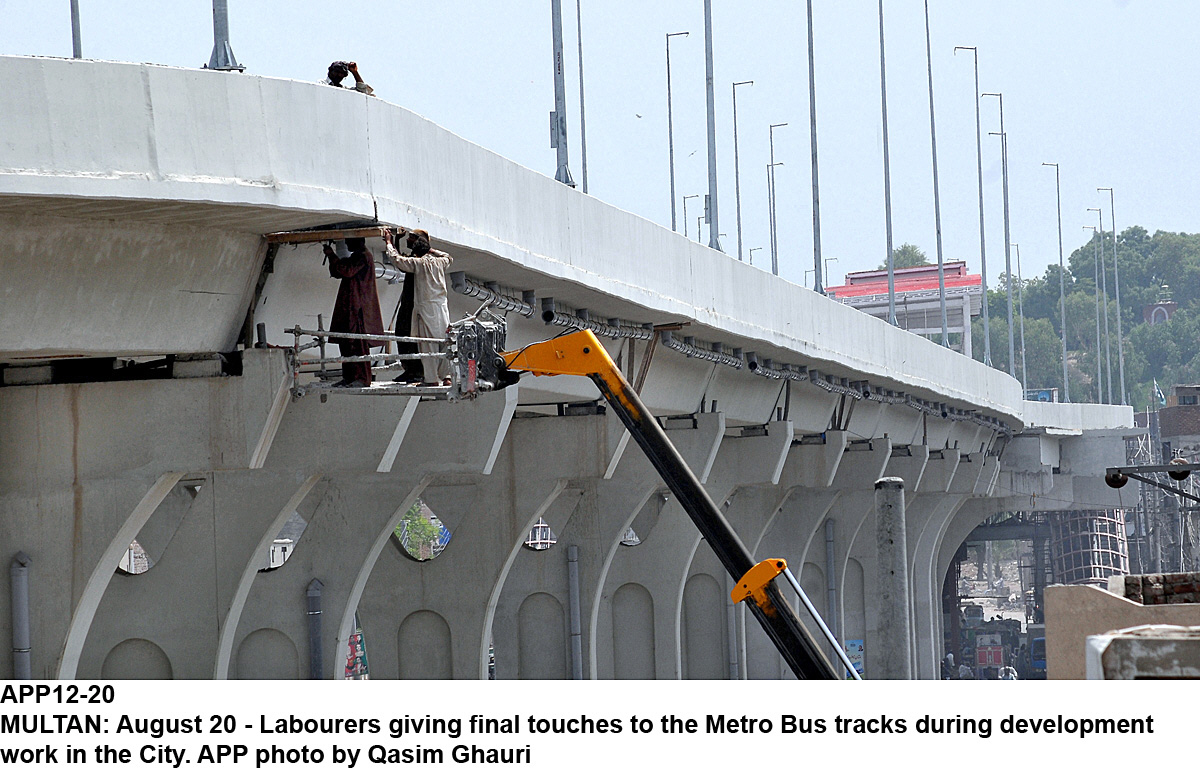 ---
LAHORE: The government has decided to waive customs duty for Chinese contractors importing heavy machinery for the Lahore Metro's Orange Line project, similar to the duty-free concessions given to firms working on the China-Pakistan Economic Corridor (CPEC).

Earlier in July 2016, the Federal Board of Revenue (FBR) had exempted three Chinese construction firms working on different highways and motorways under the multi-billion CPEC projects from paying the duty.

Under construction: Orange Line project half way through

As per the terms, Punjab government had agreed to pay customs duty on the train project related imports through Chinese contractor, CR-NORINCO, said Orange Line Steering Committee Chairperson Khawaja Ahmad Hassan while talking to The Express Tribune.

Chinese contractors, he added, started importing heavy mechanical and electrical equipment for the metro train and two consignments had arrived in Pakistan. The firms had to pay Rs500 million in duty to the FBR.

Going all out  

Though the Punjab government has asked the FBR to waive customs duty on Orange Line-related imports, the case is still pending.

Considering the urgency of the deadline, the provincial government has decided to refund the Chinese contractors from its own kitty. "If the board later allows the waiver, the government will settle the amount with the federal government," Hassan disclosed.

A senior official of the Punjab Mass Transit Authority (PMA) told The Express Tribune the provincial transport department moved a summary through the finance department to the FBR for waiver of customs duty for Orange Line.

Transport: Orange Line project may face delays 

Discussions are underway between provincial and federal government departments. The PMA has already sent a summary to the chief minister for waiver of customs duty for Chinese contractors as per the agreement terms.

Further disclosures

Official documents available with The Express Tribune reveal that the FBR on July 27 issued a Statutory Regulatory Order (SRO) allowing exemption of customs duty on equipment and construction machinery, if not manufactured locally and imported by China State Construction Engineering Corporation Limited working on Karachi-Peshawar Motorway (Sukkur-Multan 392km-long section) and China Communication Construction Company  for the construction of Karakorum Highway Phase-II (Thakot-Havellian 118km-long section).

The 27-km Orange Line is being funded through $1.65 billion in soft loans through Chinese Exim Bank. Documents indicate around $1 billion would be directly transferred to the Chinese contractors for procurement of the rolling stock while the remaining amount would be transferred to Pakistan for construction of track and provision of allied infrastructure.

The project is part of Lahore's metro network and when completed, will connect Raiwind, Multan Road, Mcleod Road, Lahore Junction Railway Station and the Grand Trunk Road. It will be the first line of the Lahore Metro, which is country's first mass rapid transit train system.

Published in The Express Tribune, November 23rd, 2016.