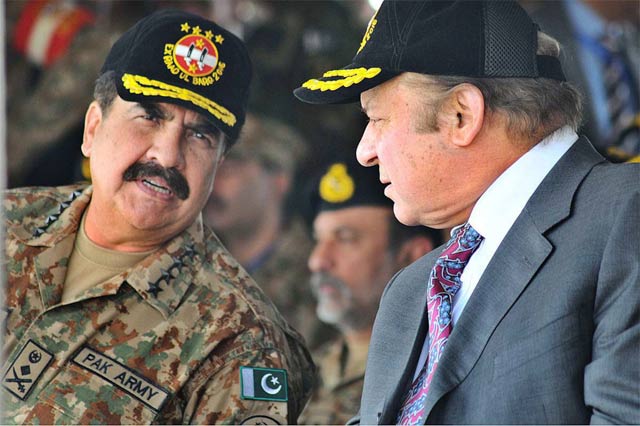 ---
KARACHI: Prime Minister Nawaz Sharif and Army chief General Raheel Sharif arrived in Karachi on Tuesday to inaugurate IDEAS 2016, a four-day defence exhibition showcasing the country's indigenously built military hardware, including fighter aircraft, tanks, missiles, drones, APCs and firearms.

The premier was accompanied by Defence Minister Khawaja Asif, Chief Minister Sindh Murad Ali Shah, Air Chief Marshal Sohail Aman, Naval Chief Admiral Zakaullah and NSA Nasir Janjua.

Defence prowess to be showcased at IDEAS 2016

Addressing the inaugural ceremony, PM Nawaz said, "Pakistan is against any sort of arms race in the region," adding that IDEAS too, goes with the tagline "Arms for peace." Following his address, the premier along with Gen Raheel, chief of naval staff and air chief marshal, formally inaugurated IDEAS 2016.




"Our government is focused on turning around the economy," PM Nawaz said, adding that Pakistan's economy is back on upward growth and the GDP is likely to grow "well over five per cent in 2016-2017."

The International Defence Exhibition and Seminar (IDEAS) 2016 has drawn delegates from around the world.




Some 418 firms from 34 countries are exhibiting their products, of which, 261 are foreign Moreover, 90 delegations are representing 43 countries. Thirty of them are headed by defence ministers, secretaries, chiefs of defence staff or services chiefs of respective countries.

Pakistan would showcase main battle tank Al Khalid, JF-17 Thunder, Super Mushshak, K-8 aircraft, Fast Attack Craft Missile boats, armoured personnel carriers, premium grade military hardware and related technology, Commodore Javed said.




Chinese and Turkish exhibitors have been allotted separate pavilions to showcase their defence equipment.

Police announce traffic plan for IDEAS, 2016

The number of Russian exhibitors has also increased to three this year from only one during the last exhibition. Russian state-controlled arms' import and export firm, Russia Rosoboronexport, is among them.

Some 14 memoranda of understandings to promote defence exports and enter into joint venture with foreign delegates and exhibitors are expected to be signed.

Comdr Javed added nine countries — Luxembourg, Denmark, Belarus, Poland, Czech Republic, Switzerland, Belgium, Nigeria, and Romania — are participating in IDEAS for the first time.