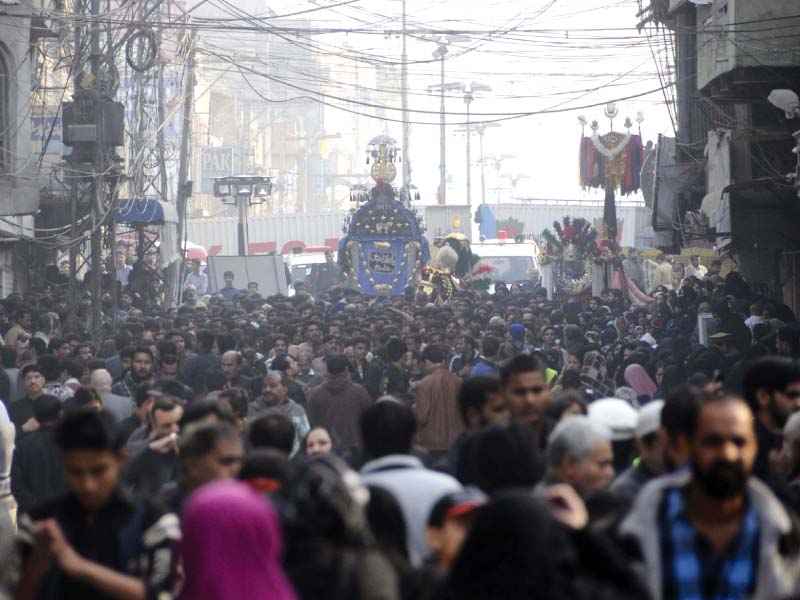 ---
RAWALPINDI: The Chehlum procession of Hazrat Imam Hussain (RA) concluded peacefully on Monday as tight security arrangements had been made for the procession which passed through the main markets of the garrison city.

A large number of mourners attended the procession, which started from Imambargah Ashiq Hussain at Taili Mohalla and was headed by Hamid Ali Shah Moosavi, chief of Tehreek Nifaz-e-Fiqa Jafria.

The procession started at about 10:00am from the imambargah, marching towards Committee Chowk on Benazir Bhutto Road. The procession followed its traditional route from Committee Chowk to Banni Chowk. It passed from Iqbal Road, College Road, before stopping at Colonel Maqbool Imambargha in Bohar Bazaar.

The procession then restarted its march towards Fawara Chowk through Tarank Bazaar. The mourners offered afternoon prayers at Fawara Chowk and again started their march towards Jamia Masjid Road, passing through Purana Qila.

The procession ended at Banni Chowk after passing through the Jamia Masjid Road.

Madrassa Taleem-ul-Quran remained closed on the day of the procession after the seminary administration agreed to a deal with the district authorities.

Over 3,000 police personnel had been deployed to secure the procession. Additionally, nine companies of the army and one company of Rangers were deployed along the procession route.

All roads and streets leading to and from the procession route were sealed shut using containers and razor wire. Mourners were only allowed to join the procession from specific points after being subjected to thorough body searches and passing through metal detectors.

Surveillance of the procession was also carried out with a helicopter and CCTV cameras.

Snipers of the police and Rangers kept watch from their vantage points atop rooftops of buildings along the route of the procession.

Traffic towards Rawaj Bazaar was not allowed on Monday as Liaqat Road, Sadar City Road, Kashmiri Bazaar Road, Ganjmandi Road, College Road, Iqbal Road, Asghar Mall Road, Bagh Sardaran Road, and Jamia Masjid Road were closed for all kinds of traffic.

The traffic police had deployed wardens to divert the vehicles as per their alternate plan. Traffic was, however, plentiful on Benazir Bhutto Road, as there was too much pressure on the main road of the city.

Published in The Express Tribune, November 22nd, 2016.
COMMENTS
Comments are moderated and generally will be posted if they are on-topic and not abusive.
For more information, please see our Comments FAQ