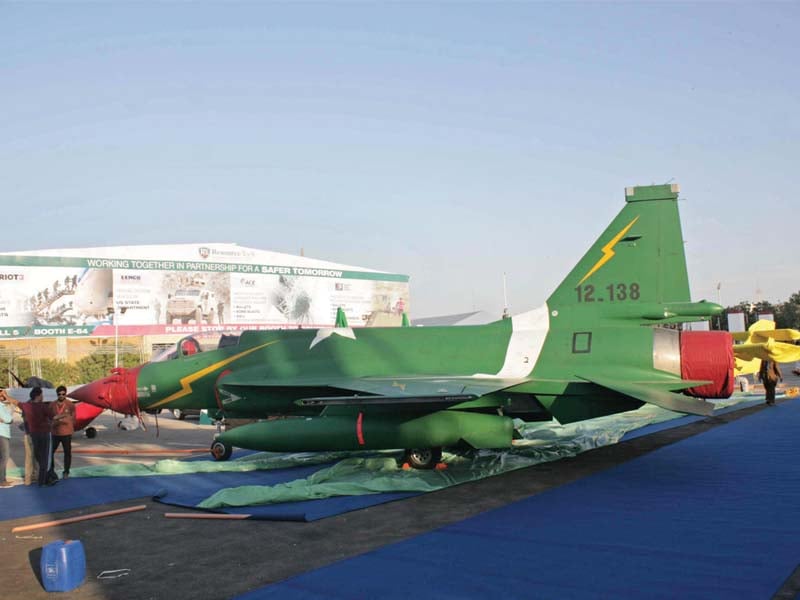 ---
KARACHI: A defence exhibition showcasing the country's indigenously built military hardware, including fighter aircraft, tanks, missiles, drones, APCs and firearms, is all set to kick off on Tuesday at the Karachi Expo Centre. Prime Minister Nawaz Sharif is likely to inaugurate the four-day event, it was learnt.

To be held under tight security, the International Defence Exhibition and Seminar (IDEAS) 2016 has drawn delegates from around the world, Commodore Tahir Javed, Director Media of the Defence Export Promotion Organisation (DEPO) said at
a media briefing on Sunday.

Police announce traffic plan for IDEAS, 2016

Some 418 firms from 34 countries would exhibit their products, of which, 261 are foreign, he added. Moreover, 90 delegations would represent 43 countries. Thirty of them would be headed by defence ministers, secretaries, chiefs of defence staff or services chiefs of respective countries.

Pakistan would showcase main battle tank Al Khalid, JF-17 Thunder, Super Mushshak, K-8 aircraft, Fast Attack Craft Missile boats, armoured personnel carriers, premium grade military hardware and related technology, Commodore Javed said.

Chinese and Turkish exhibitors have been allotted separate pavilions to showcase their defence equipment.

The number of Russian exhibitors has also increased to three this year from only one during the last exhibition. Russian state-controlled arms' import and export firm, Russia Rosoboronexport, is among them.

Some 14 memoranda of understandings to promote defence exports and enter into joint venture with foreign delegates and exhibitors are expected to be signed.

Comdr Javed added nine countries -- Luxembourg, Denmark, Belarus, Poland, Czech Republic, Switzerland, Belgium, Nigeria, and Romania -- are participating in IDEAS for the first time.

Naval chief witnesses Pak-China exercise

Defence companies from North America, South America, Europe, Asia and Far East would also showcase their weapons.

He said holding IDEAS 2016 is a proud moment for all of us and is a clear manifestation of the fact that Pakistan does not lag behind in quality defence production.

"We have received an overwhelming response from the exhibitors as well as delegations from around the globe which would boost our confidence and assure the success of IDEAS 2016," he added.

Responding to a question, Brigadier Waheed Mumtaz, Director Coordination DEPO, said: "We are capable of breaking the backbone of aggressors [including India]."

Meanwhile, SP (traffic) Erum Awan added that the two-way road in front of the Expo Centre would remain opened for public transport round-the-clock. Earlier, it was decided to close the road from morning to afternoon.

"If we need to close these roads for VVIP movements, the duration of this would not be more than two to three minutes."

Published in The Express Tribune, November 21st, 2016.