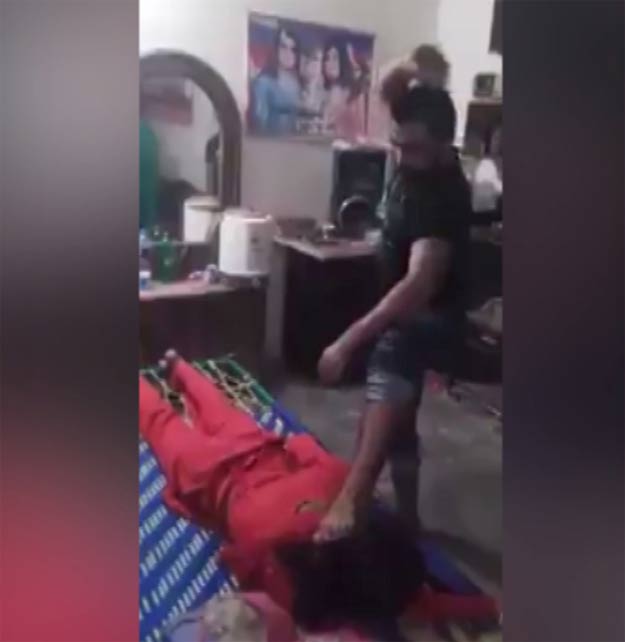 ---
Police rounded up 10 male suspects in Sialkot on Monday following the appearance of a slightly grainy but graphic video clip in which a transgender person is flogged.

The video was posted on a website and shared thousands of times.

It purportedly shows a man pinning the transgender woman face down on a bed with his foot and beating her with what appears to be a leather belt. At one point, he reportedly places his foot on the victim's neck and twists her arms, while another man continues the flogging.

Five arrested in Sialkot after horrific video of man beating up transgender goes viral




Police chief Abid Khan said five suspects have been charged with torture and extortion, while the other five are under investigation.

According to Express News, the offender Jajja Butt, beat up the transgender over her refusal to pay extortion money. However, a transgender reportedly present at the site of the incident claimed that such gangs are present in every city of Pakistan and simply enjoy torturing members of the community.

When approached in prison, Butt had a different version. He claimed the incident was a private matter between him and the transgender woman.

"She was my lover but was physically involved with other men," he told Express News. Butt went on to add that the video would help end attacks against the transgender community.

Attack on transgender sparks outrage

TransAction, a local transgender rights group, posted an interview with another transgender woman, identified as Jolie, who said she was present when the attack took place.

She said the gang barged into a house, where several transgender women were living, and beat and tortured one of them for several hours. Jolie also said they shaved the heads of others. Police official Iqbal Sindhu confirmed Jolie was present at the scene.

Jolie urged the government to introduce laws for the protection of the transgender community. "This country has laws for everyone, even animals, but not for us. Are we the children of a lesser god?"



Published in The Express Tribune, November 15th, 2016.

 
COMMENTS (3)
Comments are moderated and generally will be posted if they are on-topic and not abusive.
For more information, please see our Comments FAQ