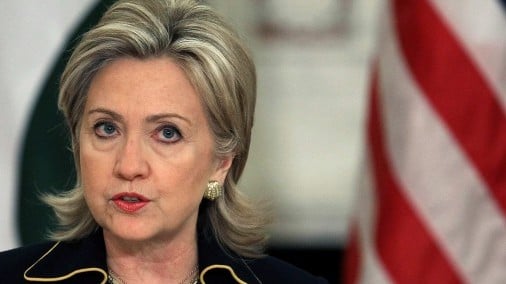 ---
WASHINGTON: The US has said that there are elements in Pakistan's administration who were more informed about al Qaeda and the Taliban than they let on, as Washington for the first time accused the Taliban of being behind the botched Times Square bombing plot.

"Some Pakistani officials were more informed about al Qaeda and the Taliban than they let on", Secretary of State Hillary Clinton has said. "I'm not saying that they're at the highest levels but I believe that somewhere in this government are people who know where Osama bin Laden and al Qaeda are, where Mullah Omar and the leadership of the Afghan Taliban is and we expect more cooperation to help us bring to justice, capture or kill those who attacked us on 9/11," Hillary Clinton told an American television channel, CBS.

In response to Clinton's allegation, Foreign Office spokesperson Abdul Basit, told The Express Tribune that the news was false: "This is not true. Had we known about their whereabouts we would have proceeded and taken action." With regards to Pakistan's cooperation on the war on terror, the Secretary of State, while acknowledging a "sea change" in cooperation by Pakistani authorities, added "we want more". When asked why the Obama administration was not piling on pressure on Islamabad to give up Osama bin Laden and his deputy Ayman al Zawahiri, Clinton replied "I have to stand up for the efforts the Pakistani government is taking.

They have taken a very significant move toward going after the terrorists within their own country". Her comments came as other senior US officials including Attorney-General Eric Holder said that they have obtained new evidence that the Pakistani Taliban was behind the failed New York City bombing attempt. "We know they facilitated the bomb plot and they probably also financed it", the Attorney General told ABC News. Faisal Shahzad, a 30-year-old naturalised Pakistani-American citizen had been instructed by the Pakistani Taliban to always pay cash and not to leave a paper trail in transactions, a media report said on Monday.

The Los Angeles Times reported: "He was told to be very careful about not letting anything track back to him. No receipts and no paper. No nothing," an official source close to the investigation was quoted as saying in the paper. The paper said Shahzad had paid in cash for his gun, as also for the van he bought from a Connecticut-based teenager. The investigators probing the plot are trying to determine how much Taliban money was provided to front the operation, who put up the funds and how it was paid out to Shahzad, the report said.

The New York Times said that US military commander in Afghanistan Gen Stanley A McChrystal met Pakistani military chief Gen Ashfaq Parvez Kayani in Islamabad and pressed for a new military offensive in North Waziristan. Meanwhile, Pakistan's investigation agencies cleared Air Vice Marshal Baharul Haq, Shahzad's father, who is also under investigation for the failed bombing attempt.

An FBI team also met with him in the presence of Pakistani authorities. The FBI team, headed by Smith Carol, also requested permission to visit the Jamatud- Dawah headquarters, informed sources. The request was denied by the Pakistani government. ONLINE (WITH ADDITIONAL REPORTING BY FATIMA MOHSIN).

Published in the Express Tribune, May 11th, 2010.
COMMENTS (3)
Comments are moderated and generally will be posted if they are on-topic and not abusive.
For more information, please see our Comments FAQ