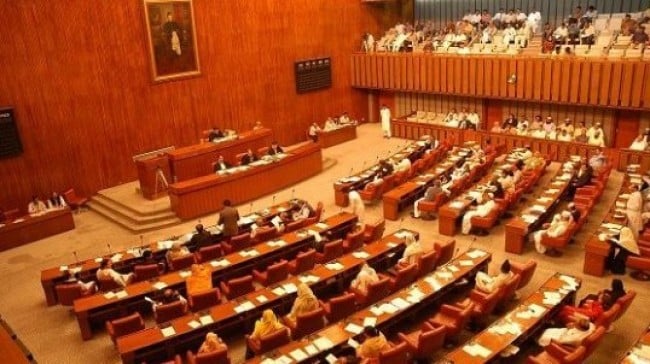 ---
ISLAMABAD: The Senate unanimously passed a resolution on Friday calling upon the government to ensure that people from the Federally Administered Tribal Areas (Fata) get the jobs specified in the quota.

Senator Hafiz Rasheed, who moved the resolution, said that Fata was being unjustly treated. As a corrective measure, he suggested, that the government should immediately hire 500 people from the tribal areas in each federal department. Senator Abbas Khan supported the resolution, saying that in order to end terrorism in Fata, the young men from the region must be employed.

Senator Raja Zafar-ul-Haq said that the government was only using force in Fata and not providing people economic opportunities. Senator Ilyas Bilour said that the previous government's nine-year-rule had totally destroyed the administrative system in Fata and that things would improve in the restive region once the system was corrected. Senator Khalid Mehmood Soomro also supported the resolution and criticised the military operation in the tribal regions saying that the patriotic people of Fata were being treated as enemies.

The senators also discussed US Secretary of State Hillary Clinton's warning to Pakistan. Senator Zafar Ali Shah, from the Pakistan Muslim League- Nawaz (PML-N) said that Clinton had clearly threatened Pakistan over the issue of terror suspect Faisal Shahzad. "Pakistan is fighting America's war which has only brought suffering to the people of Pakistan. The Pakistan Army has suffered severe losses in fighting this war and the US is still threatening Pakistan," he said.

Shah used strong words about Pakistan's foreign policy and called it a 'stinking foreign policy'. Senator Salim Saifullah of the PML-Quaid said that hardly a few days had passed since the strategic dialogue and the US had already started issuing threats to Pakistan. Senator Maulana Abdul Ghafoor Haideri of the Jamiat Ulema-i- Islam-Fazlur Rehman (JUI-F) demanded that the house should pass a resolution against these threats. However, Defence Minister Ahmed Mukhtar said that the matter concerned the Foreign Office and the foreign minister would soon issue a statement in the house.

Senator Tahir Mashhadi of the Muttahida Qaumi Movement (MQM) raised the issue of land-grabbing by government departments in Karachi. He alleged that the police and other government departments had grabbed land in Karachi and claimed that in an area of Karachi, 500 out of 800 acres of land had been grabbed and the rest was also threatened.

Published in the Express Tribune, May 11th, 2010.
COMMENTS
Comments are moderated and generally will be posted if they are on-topic and not abusive.
For more information, please see our Comments FAQ