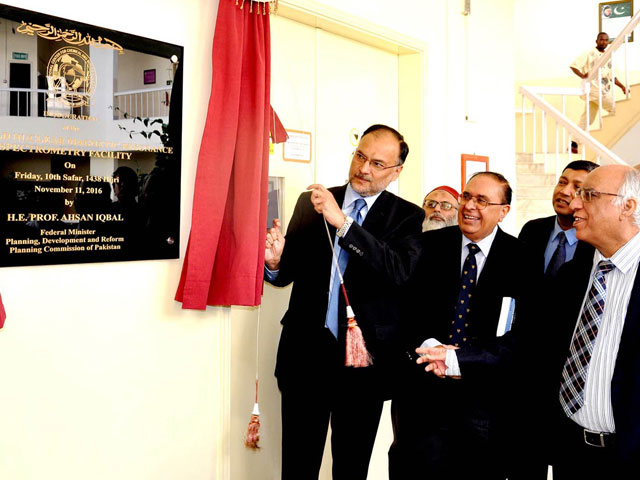 ---
KARACHI: Pakistan cannot afford research for the sake of research; the country needs to push for more creative, innovation-driven learning, said federal planning and development minister Ahsan Iqbal.

He was addressing the inauguration ceremony of a 800-megahertz (19 Tesla) nuclear magnetic resonance spectrometer at Karachi University's (KU) International Centre of Chemical and Biological Sciences (ICCBS) on Friday.

The minister inaugurated the machine and also launched a book on it, co-written by Dr Attaur Rahman, Dr Iqbal Choudhary and Dr Atiyatul Wahab.

"We are living in a knowledge-based revolutionary age and innovation is driving us in our lives," said the chief guest, urging students to aim to achieve higher goals, adding that whatever causes disruption in revolution needs more innovation.




Giving an example of such a revolution, he said that Pakistan has developed in higher education but has not developed its schools and colleges. Talking about the Pakistan Muslim League - Nawaz's (PML-N) policies from 1998, he said that after the military coup, Gen (retd) Musharraf discontinued all their policies except the Higher Education Commission (HEC).

Reminiscing about the state of those times, he said that when the Nawaz-led government asked how many PhDs there were in the country, they found there were only 350 doctorate holders and more than 60% of them were retiring in the next five years. "There are 7,500 plus PhD holders in science and technology today due to the HEC's role in upgrading higher education in Pakistan," he said proudly.

Talking about the recent system of education, he said that schools and colleges have not developed the way they should have. "We have to balance our system because it is in a bad state," he added.

Announcing that they have signed an agreement on the national curriculum for innovation-based learning, he said that the system will be implemented in the next two years and will change the philosophy of education in schools.

Criticising the current system of education, he said that we have state-of-the-art building structures but have failed to build right system for the betterment of the country. "We have changed the minds of our children to a copy paste tradition," said Iqbal, adding that we need to be more creative and innovative.

Explaining the new dimensions set by the government's vision, he said that there will be six dimensions that will focus on instruction, level of academia, community development, technology, research and product.

Professor of pathology and immunology at the University of Geneva, Prof Dr Daniel Hoessli, said that the 800-MHz nuclear spectrometer is one of the most versatile instruments available in the world. "It will help in deciphering shapes of molecules, proteins and in all important biological activities," he said, adding that the instrument will help detect cancer infections and prevent them.

Published in The Express Tribune, November 12th, 2016.